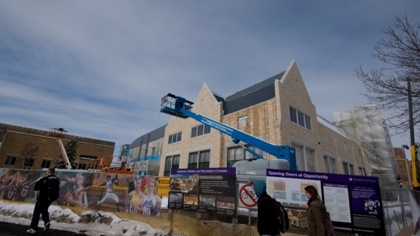 Students who will graduate before the Anderson Athletic and Recreation Complex opens may never have a chance to use the facilities for "free," although no official plans have been made yet.
The goal will be to make revenue on the facility, so alumni will need to buy a membership.
"Until we really move in and see what the pattern of usage of our students is, I think you wouldn't want to start scheduling other people in there and take time from students and things like that," Athletic Director Steve Fritz said. "So we really want to find that out first."
In the past, a few alumni purchased memberships to use the old facilities, paying about $75 per year to use the facilities when they were open, Fritz said.
The completion of the athletic center will be a welcomed site for those who have become frustrated with cramped workout facilities on campus.
"We're all kind of obsessed with working out here, I think, so it's just good to know that they saw that and they're going to do something about it," junior Stephanie Renckens said.
The number of improvements from the old facilities to the new are many.
In the past, track and field events could not be held at St. Thomas because the track was 167 meters, not the standard 200 meters. Fritz said the track was mainly used for training, even though it was too small for that as well. The new track will be 200 meters, and the field house will include a large curtain so multiple activities can be held at once.
The pool in O'Shaughnessy Hall was built in 1938, had only five lanes and wasn't deep enough for diving in addition to leaking about an inch of water a day, according to Fritz. The new pool will have eight lanes for racing and recreational swimming, a diving area with a 1- and 3-meter boards and seating for about 250 spectators.
Stephani Bloomquist can be reached at slbloomquist@stthomas.edu