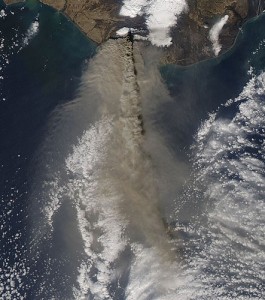 As ash clouds blanket Europe in the aftermath of the Icelandic volcanic eruption, some St. Thomas students are experiencing transportation difficulties abroad.
More than two-thirds of scheduled flights in Europe were still grounded Monday morning due to worries that the ash in the air could damage planes.
Junior Andrew Spratt is studying abroad in Seville, Spain as part of the semester-long Council on International Educational Exchange program. His mom is planning to visit him, and they were originally going to meet in London to spend a few days there before heading to the Canary Islands for the second half of the trip. However, the flight cancellations caused problems.
"We had to scrap the whole London plan, and now my mom is in the middle of trying to catch a flight directly into Madrid in order to salvage the Canary Island half of the trip," Spratt said via Facebook.
Spratt's mother flew out from Denver and was hoping to take a flight from Washington, D.C., to Madrid Monday night. He will take a train from Seville to Madrid to meet his mother, but he won't know if his mother's plane can take off until after he boards on the train.
"Madrid has been on and off with closing the airport, so everything is up in the air," Spratt said. "Basically, myself and thousands of other people in Europe are having to just play it by ear."
He added that almost everyone in his program has had plans cancelled.
Challenges for other St. Thomas students, guests
Ann Hubbard, director of semester- and year-long programs for the International Education Center, said in an e-mail that she spoke with the director of the Bernardi Residence in Rome Monday morning, and he said one or two students studying in Rome were in Vienna for the weekend and had to find train rides back to Rome later than planned.
Hubbard added that a group of 26 students from St. Thomas' partner university in Germany, Fachhochschule-Trier, were supposed to arrive at St. Thomas last Friday for a visit.
"They have canceled altogether since it just won't be feasible for them to get here during their break week," Hubbard said.
Some airlines have started offering flights again, including Lufthansa Airlines in Germany, and the British Royal Navy even sent warships across the English Channel to rescue Britons trapped in France. Many airlines in southern Europe also remain open since the ash cloud wasn't as bad there, so stranded travelers might be able to divert their routes through southern Europe and find a way back to the United States.
But for now, travelers such as Spratt have to deal with the inconveniences.
"It's been a nightmare," he said.
Katie Broadwell can be reached at klbroadwell@stthomas.edu.