After 15 years in St. Thomas' Brady Educational Center, the Rockey Grounds Espresso Bar will be replaced this fall with a university-run coffee cart.
The university made the decision this spring as part of a plan to use internal service providers, said Bruce Van Den Berghe, associate vice president of auxiliary and administrative services.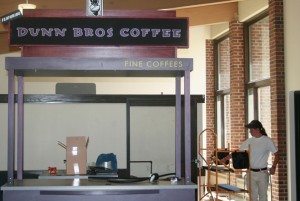 "It was just a move on the part of the university to internalize as much of the services that could be provided on campus," Van Den Berghe said. "We thanked them for their years of service to the university, its faculty, staff and students, and informed them in line with the terms of the agreement that we were giving them their formal notice that their services would no longer be required."
Independent of the St. Thomas dining services, Rockey Grounds was operated by owner Lorna Rockey under the terms of a month-to-month lease.
Rockey said she was stunned when she received what she called "a very impersonal, short letter," informing her that the lease would be terminated July 30.
"It came out of nowhere, they gave me no heads up at all," Rockey said. "After 15 years of service, you'd think if they were thinking of making a change they'd give you a year or at least a semester heads up to tell you, 'Hey, we're phasing this thing out, you might want to look for other venues.'"
Rockey said she believes the change was handled unprofessionally and unethically by the university, since she never received a phone call or was asked to meet with St. Thomas officials to discuss the change.
"It just is not reflective of anything to do with a Catholic university to be treated this heartlessly. I'm really surprised," Rockey said.
Van Den Berghe said he didn't believe the situation was handled unfairly and that nothing in the agreement was violated.
"Things like this are never easy to handle. A business decision is made and then business processes kick in," Van Den Berghe said. "It's not as though they had a 99 year lease and we elected to end it prematurely."
The new coffee cart will open at the beginning of fall semester  and will be run by student employees, said Todd Empanger, director of dining services. Empanger said it will serve Starbucks products and accept cash and eXpress dollars.
Students should not expect a reduction in quality and the new cart will feature an expanded menu, said Gayle Lamb, cash operations manager for dining services.
"We're just in the process of hiring our new staff person and she comes from a coffee background," Lamb said. "We have a lot more resources than what Rockey Grounds had, to be able to supply a more expanded menu. With the support of Starbucks, we'll have their full product line."
Sophomore Tommy Glass, a frequenter of Rockey Grounds, said he's most concerned about losing the uniqueness of Rockey's coffee cart.
"One of the biggest things, obviously besides having a good cup of coffee, is losing just the entire atmosphere," Glass said. "Even if you were just passing by, it was a really nice touch to the BEC. I know plenty of my friends even formed friendships with her and they are just outraged at the situation."
Brent Fischer can be reached at bafischer@stthomas.edu.