Sophomore Danny McCourtney plays the computer game "Call of Duty" two to four hours a week with small groups of friends. He said slow Internet speeds on campus have affected his gaming experience.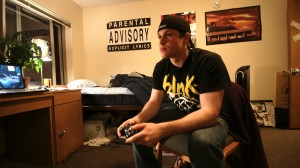 "I feel it definitely takes away from the online experience, if allowing it at all, because there are lag issues, finding games, your network," he said.
But McCourtney might be part of the problem.
On-campus Internet is slow because more students are streaming videos and playing video games online than ever before, said Sam Levy, vice president of IRT.
"We're experiencing an unprecedented increase in network demand," Levy said. "There's been a 40 percent increase in Internet traffic this semester."
The increased Internet use comes mainly from video streaming and online gaming, Levy said. YouTube, Netflix and games such as "Call of Duty" all involve streaming video, which takes up large chunks of the university's bandwidth.
The main reason "Call of Duty" has been running so slowly is because the game's server is experiencing technical problems not associated with the St. Thomas servers, Levy said.
Junior Kevin Gause agreed that the slow Internet has been a problem when he plays "Call of Duty," but said, "it kind of depends on which game you're playing and where you're playing."
Junior Nick Lunneborg also plays the game with friends for about an hour and a half, two to three times a week. Although Internet speed has affected the game, he said, he does not really care about it that much.
Increased bandwidth use is a national trend
The increased bandwidth use at St. Thomas is part of a nationwide trend at universities as the popularity of streaming videos and online gaming increases, Levy said.
"St. Thomas' bandwidth usage was 6 megabytes per second in 2001 and that's gone up to 300 megabytes per second in 2010," Levy said. "We're pressing the limits between noon and midnight. If the total capacity exceeds 300 megabytes, the Internet service provider will not allow any more traffic."
This is why students are seeing slower Internet speeds, and why videos take a long time to load, he said.
Murphy Online is down due to scheduled maintenance unrelated to the slow Internet speeds, Levy said.
Students can help
The university will consider buying additional bandwidth, but Levy wants students to take steps to solve the problem first.
"If we keep upping bandwidth, that keeps raising student fees," he said. "Students need to manage their behavior."
On the extreme edge of user behavior are a few students who take up huge chunks of the university's bandwidth.
"We have experienced moments where 10 people were each using one percent of the university's bandwidth," he said. "They have multiple devices hooked up and are streaming on all of them."
Students need to turn off Internet-capable devices when they aren't using them, stop streaming if they aren't watching or using the content, and stop using computers to download files illegally, Levy said.
"We want students to have what they need to complete academic work, communicate effectively and use the Internet for recreational use," Levy said. "But we need to reach a point of equilibrium where everyone's getting what they need without overwhelming the system."
McCourtney said he understands.
"There's a bunch of other little things that go into it that, just by adjusting the bandwidth, changes," he said. "But, you know, it's for the greater good: Studying must happen."
Rebecca Omastiak contributed to this story.
Katie Broadwell can be reached at klbroadwell@stthomas.edu.