St. Thomas students and alumni have a new way to search for career and internship listings through a new website called TommieCareers.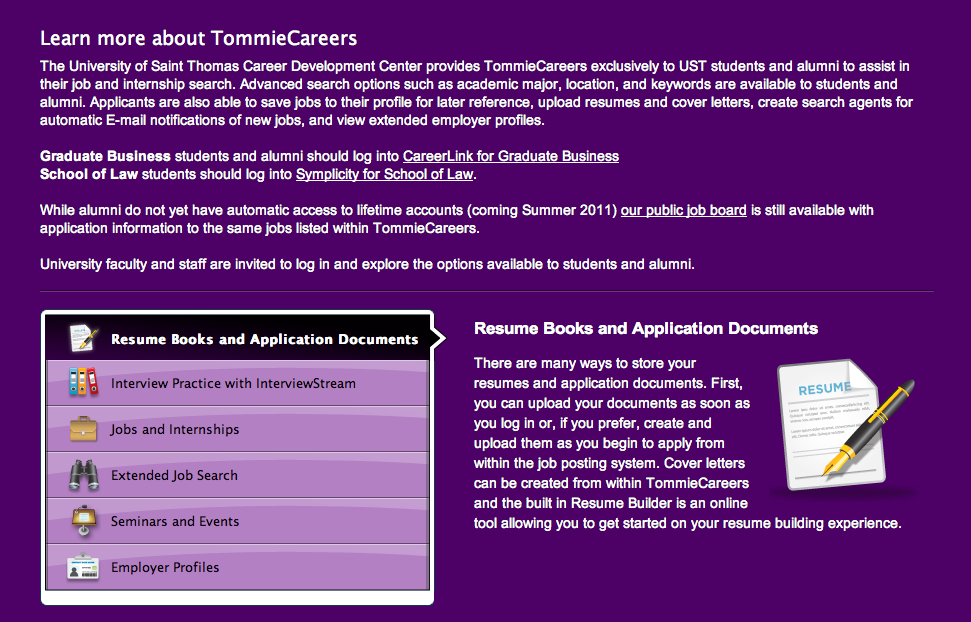 The Career Development Center worked with Information Resources and Technologies to design TommieCareers. Some listings by employers are exclusively for St. Thomas students and alumni.
"I know quite a few friends [who] have gotten a job through the St. Thomas job search," junior Fahma Mohamed said.
She added, "I think that having these kinds of resources are very helpful and give us an advantage."
TommieCareers launched in December but was recently updated and reintroduced.
Chad Kluck, St. Thomas department system specialist, said the website was updated to fit users' needs.
About TommieCareers
One of TommieCareers' new features is a required account login for a more personalized experience, Kluck said.
Students can login to TommieCareers with their St. Thomas NetID and password to view and edit their profiles.
The new site gives students the flexibility to apply and search for jobs at their convenience while building upon previous documents and past website history, Kluck said.
Student profiles will display personal and academic information and contact preferences, and will allow students to upload resumés, cover letters and writing samples. Students also can create these documents directly on the site.
Users can upload as many resumés to their profile as they want, Kluck said, and employers can be granted access to view resumé books.
"I like to know that my potential employers can look at my resumé," senior Leah Nash said. "It's a good way to get your name out there and network."
TommieCareers allows job searches to be customized by keyword, location and academic major. This can assist students in finding positions and allow them to view employment opportunities available for their particular major, said Diane Crist, Career Development Center director.
New employers will go through a one-time approval process through the Career Development Center, but Crist advises students to do their own research on companies and employers.
Other features on the site include the option to save jobs or employers as "favorites" to refer back to them at a later date. Applications and uploaded documents submitted through TommieCareers are tracked by the system.
In addition to email alerts about job postings in a user's area of study, the system also alerts users on their profile about career-related events they may be interested in.
Ariel Kendall can be reached at akendall@stthomas.edu.