[slidepress gallery = '120214_carusovideo']
Football coach Glenn Caruso, who won the Liberty Mutual Coach of the Year award for the second year in a row, presented his $10,000 donation to St. Jude Children's Research Hospital Tuesday in the Tommie Room.
Drew Giuliani, a patient at St. Jude's, was in attendance to accept the donation.
Giuliani is a Highland Catholic kindergartner who has battled retinoblastoma, a rapidly developing form of cancer that effects the light-detecting tissue in the eye. He was introduced to the St. Thomas community through the Up 'til Dawn event in the fall.
"(Drew) was at our event this year. We had our letter writing and finale event together in the same night, and he just got to play the games and hang out, and the football team did a little chant with him. He just got to be a kid, and that is what it is all about," said Alicia Johnson, executive director of Up 'til Dawn.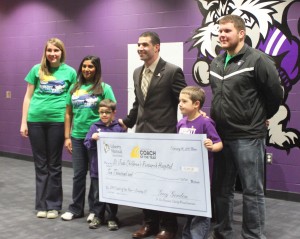 Many people in attendance knew Drew and his story, and Caruso said that he is an inspiration.
"When we look at a young man going through this at a young age, something personally I went through in a very similar manner at a very similar age, I feel a very strong connection to him," Caruso said. "We love fighters, we love kids that battle and fight whether it's on our football team or whether that's in our general community. Drew certainly embodies that fight, and we're so proud to have him as part of this program."
Drew was not only part of Tuesday's ceremony, but he also became part of the team when Caruso named him an honorary captain for a game against Hamline last fall.
Drew and his brother Jack hung out with the St. Thomas players on the sidelines during the game, but Drew said that his favorite part of the experience was "going out on the field with the players" for the coin toss.
Drew's cancer has been in remission for a year.
Cynthia Johnson and Olivia Detweiler contributed to this report.