Some St. Thomas winter athletic teams will make a television debut this season as part of a pilot program with KSTP-TV's sister station, KSTC-TV Channel 45.
Michelle Morgan, marketing manager for St. Thomas athletics, said KSTC will broadcast four home games this winter.
"We've had great success with the WCCO relationship for football on the radio, so I think this is something that the higher ups have said 'let's see what we can do with this.' This is new to us, and we are learning as we go," Morgan said.
The men's hockey Dec. 1 match-up against Concordia-Moorhead is the first game slated to air. Men's basketball will get the next spot Jan. 12 when it hosts St. John's.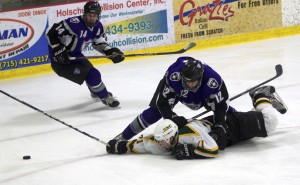 Senior basketball player Will Deberg gave credit to great rivalries and the university's solid athletic program for the opportunity to play on television.
"It will be cool to give people an opportunity to watch a great rivalry on TV," Deberg said. "I think it's a credit not only to the basketball team and all we've accomplished, but to all the other sports programs that have made St. Thomas so successful."
Morgan said she hopes the televised games will bring an opportunity for outsiders to understand the dynamics of the university and its athletic program.
"The men's basketball game is against St. John's. Everybody knows about that rivalry for football, but may not realize that it trickles down to the other sports as well," Morgan said.
For women's teams, KSTC will broadcast basketball action against St. Benedict's Feb. 9 and hockey against Augsburg Feb. 16.
Senior hockey player Brandon Bahnemann said he hopes the coverage will boost support for the men's hockey team since it has to travel to Mendota Heights, Minn., for home games.
"For the hockey team, this means so much," Bahnemann said. "It isn't always ideal for St. Thomas students to pick up and drive off campus to catch a game. Here in the state of hockey, there is certainly a large audience for the game, and now that it can be televised it can only add to our fan base."
Junior hockey player Alise Riedel said she thinks the broadcasts are a good opportunity for the university to promote its women's athletic teams.
"It's good for us to get our name out there a little more because women's sports tend to lack, and since hockey is off campus, it will bring us more fans," Riedel said.
Playing on television could add a little pressure, Riedel said, since her team is not used to a spotlight.
"Now I know I have to play well … it's a little more nerve racking." Riedel said.
Morgan said she hopes that while the games will be available on television, students will continue to actually attend the events.
"When you put sports events on television, you potentially run the risk of losing the bodies in the seats," Morgan said.
Overall, Morgan said St. Thomas is optimistic that the upcoming broadcasts will be great learning experience for the university.
"This really is a large undertaking that the athletic department and university is working on, but I think we'll learn a lot from it," Morgan said. "To even have the opportunity to put some of our teams on the airwaves is huge."
Alex Goering can be reached at goer8777@stthomas.edu.