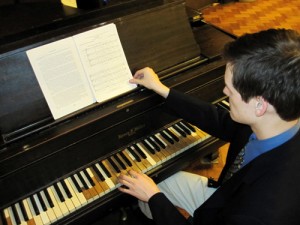 Do you know how to get to Carnegie Hall? Practice. At least that is how St. Thomas freshman Richard Shallbetter is getting there.
This summer, Shallbetter will be a part of American composer and choral idol Eric Whitacre's award-winning musical, "Paradise Lost: Shadows and Wings."
The concert is being run through an organization called Distinguished Concerts International, New York, which held an open casting call last summer. Thousands of singers across the nation sent in audition tapes for a chance at being selected for the concert.
Shallbetter said he heard about the auditions on Whitacre's personal blog. On the blog, Whitacre wrote, "The choir will be made up of singers and choirs from all over the country, selected specifically for the event. My hope is to have several hundred of the finest singers in the country on stage with us, bringing the complete story."
Shallbetter set his goals high when he and his brother learned about the concert.
"As soon as we learned that the show was happening, my brother told me that we had to see it," Shallbetter said. "I replied, 'See it? I have to be in it.'"
His next step was to record an audition tape. His selection consisted of an acapella excerpt from an Italian aria.
A rush of emotions struck Shallbetter when he got the phone call telling him he made the choir.
"I was positively overjoyed on the phone, and as soon as I hung up, I was whooping and hollering around the house," Shallbetter said. "I went absolutely crazy with the idea that this could actually be happening."
Angela Broeker, director of chamber singers at St. Thomas, recognized Shallbetter for his achievement.
"He is a gifted tenor," Broeker said. "His passion for choral music and his admiration of Eric Whitacre makes this engagement a perfect fit for him."
Shallbetter's classmates, such as junior Josh Anderson, shared some of the excitement.
"We were all so pleasantly surprised and proud of Richard," Anderson said. "He is so talented and kind as well. I'm sure he will impress everyone he meets at this event."
Although excited for the concert, Shallbetter said he is equally thrilled to sing at Carnegie Hall.
"Most people will never be able to cross this off their bucket lists," Shallbetter said. "I'll be singing there before the age of 20."
Zach Pagano can be reached at paga7147@stthomas.edu.