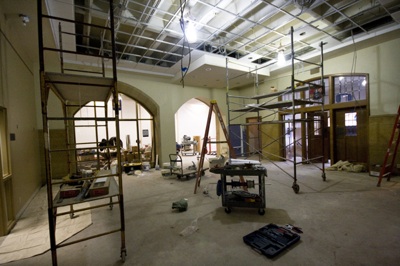 St. Thomas will open its new coffee shop in the O'Shaughnessy-Frey Library the second week of February, as it will drop the white curtain now hanging around the construction site on the first floor.
"[The white curtain] keeps the whole project behind a screen until we're ready to unveil it," Director of Libraries Dan Gjelten said. "And that's kind of fun."
The coffee shop, a partnership between the library and Coffee Bené, will feature a complete makeover of the southeast corner of the first floor. Striving to create that "coffee shop feel," the area will have new flooring, paint, lights and furniture.
"I think [students] will be able to find the kind of place they want," Gjelten said. "It's going to look really nice."
The shop was originally scheduled to open the first day of spring semester. But based on construction, Gjelten said opening the coffee shop Feb. 1 "might be unrealistic." The opening date will be pushed back a couple weeks.
Gjelten said the construction is going smoothly and the noise level has not been disturbing so far. The construction workers have already finished the biggest part of the project, which was knocking down a wall to create space for the coffee shop. Workers are now focusing on plumbing and electrical work.
Once the shop opens it'll start its business day at 7:30 a.m. As for closing hours, Coffee Bene and the library will test them out for the first few weeks, to determine how late they'll continue to brew coffee, Gjelten said.
This coffee shop stems from student and faculty requests for coffee in the library for more than five years, according to Sam Levy, vice president of the division of information resources and technologies.
"This is a response from a fairly overwhelming mandate," Levy said. "It's going to be a great place."
Mary Kenkel can be reached at mlkenkel@stthomas.edu