Conservative political analyst and author David Frum spoke to the St. Thomas community as part of Minnesota Public Radio's ongoing Broadcast Journalist Series Tuesday at the O'Shaughnessy Educational Center auditorium.
The discussion was held by "All Things Considered" host Tom Crann and focused on the political landscape of "postelection" America.
Frum began the discussion with his ideas about why Gov. Mitt Romney lost the presidential election.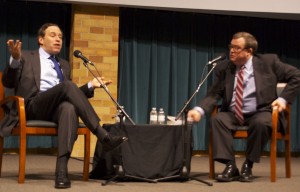 "They had to have a message that was broadly acceptable to the great American majority," Frum said. "Republicans failed to do that."
Junior Ali Wadell said she was intrigued by Frum's idea that the media can have such a dominating presence on political candidates.
"I thought it was interesting how Frum said the media affected him (Romney) so much that his sense of self was kind of changing throughout the election," Wadell said.
Frum said Romney lost the election because he "was changed" for worse by trying to follow the conservative guidelines of his political party too closely. He also said Romney failed to achieve authenticity and "couldn't fake sincerity."
Frum's book titled "Why Romney Lost (And What The GOP Can Do About It)" sold out the Friday after the election. Frum said he finished writing the book before election night.
The Republican party will bounce back, but first needs to abandon the notion of waging "ideological wars" that the conservative entertainment complex demands, Frum said.
Frum dove into other issues citing his ideas on how Republicans can tweak their message, or at least the way it is sent, to see better results at the polls in the future.
"One of the things I am most unhappy about is this new cult of conservative despair … this world is a way better place than it used to be," Frum said.
On postelection politics, such as the upcoming "fiscal cliff," Frum did not seem too concerned, calling it an "artificial stupid deadline" and "irrational."
"The measure of our ability to get things done is not our ability to solve the fiscal cliff. The measure of our ability is to avoid backing ourselves into completely preposterous problems," Frum said.
Along with students, community members and alumni were invited to the discussion.
1971 graduate Jim White found the event to be a great and insightful night for all who attended.
"I just encourage students to go listen, go ask questions and make comments. It's part of your education. St. Thomas taught me to think, and I'm continuing to learn," White said.
Alex Goering can be reached at goer8777@stthomas.edu.