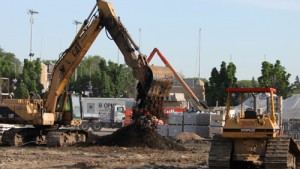 Construction started Tuesday on the new Anderson Student Center. The City of St. Paul granted the highly anticipated permits Monday, allowing OPUS to break ground on the 20-month project.
The $66 million, 225,000-square-foot student center will feature four bowling lanes, a giant dance floor and an 1,800-square-foot atrium.
"In higher education they call student centers the living room of the campus, and that's truly what we're trying to create here," said Mary Ann Ryan, executive director of Campus and Residence Life.
The facility will have many dining options including a new home for Scooters and the Grill, and a coffee and smoothie bar.
Many students are excited for the new student dining center, which will overlook the quad on one side and the football field on the other.
"You can pick and choose what you want," sophomore Megan Masshardt said. "So there is a wider variety of selection on campus, so you aren't stuck with a set menu everyday."
Ryan said the dining center, located on the second floor, will be bigger and have more equipment, including a giant pizza oven.
"They are going to love that the food is made right in front of them, so the food is going to be so fresh and look so good," Ryan said.
The new building will also have a leadership room, a 9,600 square-foot multipurpose room and Asmat art gallery.
Ryan said she wants the building to reflect the St. Thomas community.
"We're hoping to get some student art as well as some university art, and I think that will make it feel a lot like St. Thomas and our culture," Ryan said. "I want students to think that they own it and it's representative of their St. Thomas experience."
Ryan said the student center is expected to open Spring 2012.
Michael Ewen can be reached at mtewen@stthomas.edu.