Nearly half the students who visit campus counseling centers suffer from severe mental illness, according to the New York Times, and this rate has more than doubled in the past decade.
Debra Broderick, a psychologist at St. Thomas' Counseling and Psychological Services for six years, said this trend is also reflected at St. Thomas.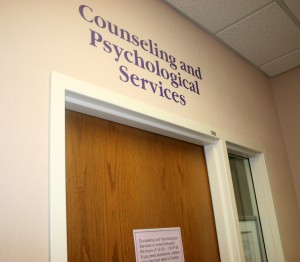 "We've seen a rise in the severity in terms of depression and an increase in students who require hospitalization, require medication in general, and have more serious mental health issues in general such as bipolar disorder," Broderick said.
Counseling and Psychological Services mainly sees cases involving depression, anxiety and relationship issues, Broderick said.
During the 2009-2010 school year, 499 students visited Counseling Services for a total of 3,029 sessions. In the 1999-2000 school year, 358 students sought counseling for a total of 2,103 sessions.
This 40 percent increase reflects national increases. To accommodate the growth, the office added three more counselors, which Broderick said could also contribute to the increase.
Freshman Ryan Bruns said he is not surprised by these increases "because of the amount of stress people are under these days in terms of classes and extracurriculars, and in terms of jobs."
"There is so much pressure to succeed," he said. "I'm glad to know that there is some place I could go to for help if there is ever a need. It's good to know that St. Thomas cares."
There are two theories that could help explain this pattern, Broderick said. First, more people in general are taking psychiatric medicine.
"There is a whole generation of young people [who] are going to college who in the past wouldn't be able to manage something like college because of these medicines," she said.
The Americans with Disabilities Act requires institutions to accommodate students with mental health problems. More education about mental illnesses and medication makes college accessible to those suffering from mental illness.
Broderick also said college is more difficult now.
"There is a lot more pressure, and students are a lot more aware of the debt load," she said. "School is a lot more expensive now, so there is a lot of pressure for students to do well in order to get a good job in order to be able to pay for school."
Broderick said many on-campus resources are available for students who need help, and these services are included in students' tuition. But some students, including sophomore Julie Rech, are unaware of these services.
"I really know very little about our psychological counseling center," Rech said. "But I think it's an important program to have on campus because it makes trained staff available to students who might not otherwise have access to such a service."
The Counseling and Psychological Services Center tries to remove stigmas associated with mental illness and wants students to always feel welcome, Broderick said.
"Mental health or mental illness is a disease. If [students] were having some sort of physical problem, they would go to health services and there is no shame or embarrassment about that," she said. "We look at depression or anxiety in the same light as that."
Maggie Clemensen can be reached at clem0427@stthomas.edu.