The list of off-campus vendors that accept St. Thomas students' eXpress dollars has a new addition – Noodles & Company.
After a year of negotiating, Noodles & Company, located at 2110 Ford Parkway, has decided to accept the St. Thomas eXpress card. It now joins popular vendors, such as Davanni's and Chipotle.
"We normally select the vendors because we have a pretty good idea where student hot spots are off campus," said Bruce Van den Berghe, associate vice president of auxiliary services. "But Noodles came to us this time showing interest in our program."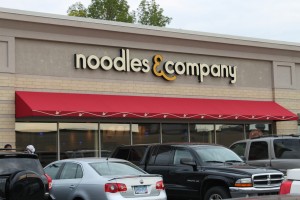 An eXpress account is a debit-spending account available for registered St. Thomas students, faculty and staff. About 5,000 people are using accounts, Van den Berghe said.
EXpress cards are currently accepted at nine other vendors: Davanni's Pizza & Hot Hoagies, Chipotle, Coffee Bene, Sinclair, Trotter's Cafe, Catch-A-Tan, 128 Cafe, Widmer's Super Market and Hairworks on the St. Thomas' St. Paul Campus.
"A lot of merchants call and ask to be a part of our program, like sports bars, but we tell them we aren't interested because their venue doesn't follow our guidelines," Van den Berghe said. "We don't accept offers from vendors who sell tobacco products, lottery tickets or alcohol to students."
The auxiliary office tries to add a new vendor each year, Van den Berghe said. He thinks a movie theater would be a nice addition to the list.
"We don't want a huge group of vendors because we want to keep it manageable and a lot goes into handling a vendor like this," Van den Berghe said. "We aren't just going to pick any place because then it will take away from the benefits we've created by teaming up with other vendors, and we don't want to water down the program."
Van den Berghe said so far the feedback he has heard from students about Noodles & Company has been positive and everyone seems excited about it.
"I love that place," senior Ashley Blonigen said. "I probably go there every other week and now this means I will go there even more."
Senior Heather Cook said she doesn't have an eXpress account, but if she did she would probably only use it at Noodles & Company because she thinks the food is amazing.
But some students don't seem to care about the latest addition to the eXpress vendor list.
"I don't really care too much," senior Ben Dellaria said. "I probably wouldn't eat there because I am an RA and I get free meals on campus anyway."
St. Thomas students, faculty and staff can sign up for an eXpress account by filling out an account agreement form, available at the St. Paul Card Office or the Minneapolis Public Safety Desk.
Ashley Stewart can be reached at stew1177@stthomas.edu.