Senior Daniel Carr is the 2011 Tommie Award recipient.
Carr is a political science major and has been involved in Students Taking Action Now in Darfur, Undergraduate Student Government and varsity football and is a founding member of the St. Thomas chapter of the Fellowship of Christian Athletes.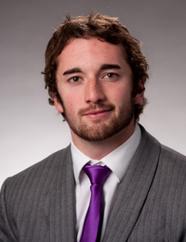 "I don't think it's quite sunk in yet, to be honest with you," Carr said. "I was very surprised even to get nominated, and then to get to the top three was kind of a shock."
About 1,500 students, faculty and staff voted, said Vern Klobassa, Tommie Award coordinator. The other finalists were Nick Kor and Miles Trump.
"I wish to congratulate Daniel on this great honor and to convey gratitude for his significant contributions to the St. Thomas community," Klobassa said.
When asked what the award means for him, Carr said he was still unsure.
"I don't know yet," Carr said. "It's not much about the notoriety or the things I've accomplished on paper. I hope I'll believe that the award in part was something that I achieved or was awarded because I positively affected people's lives at this school."
Carr said he thanks everyone for the votes and the support.
"Especially thank you to those who had an active role in my formation here," Carr said. "Different teammates, my close friends, my spiritual directors in terms of priests, those who really helped me become the person that I think I am or am becoming."
As the 2011 Tommie Award winner, Carr will emcee the Spirit of St. Thomas celebration and speak at graduation.
Editor's note: TommieMedia production editor Miles Trump was not involved in writing or editing this report.
Colleen Schreier can be reached at schr1207@stthomas.edu.