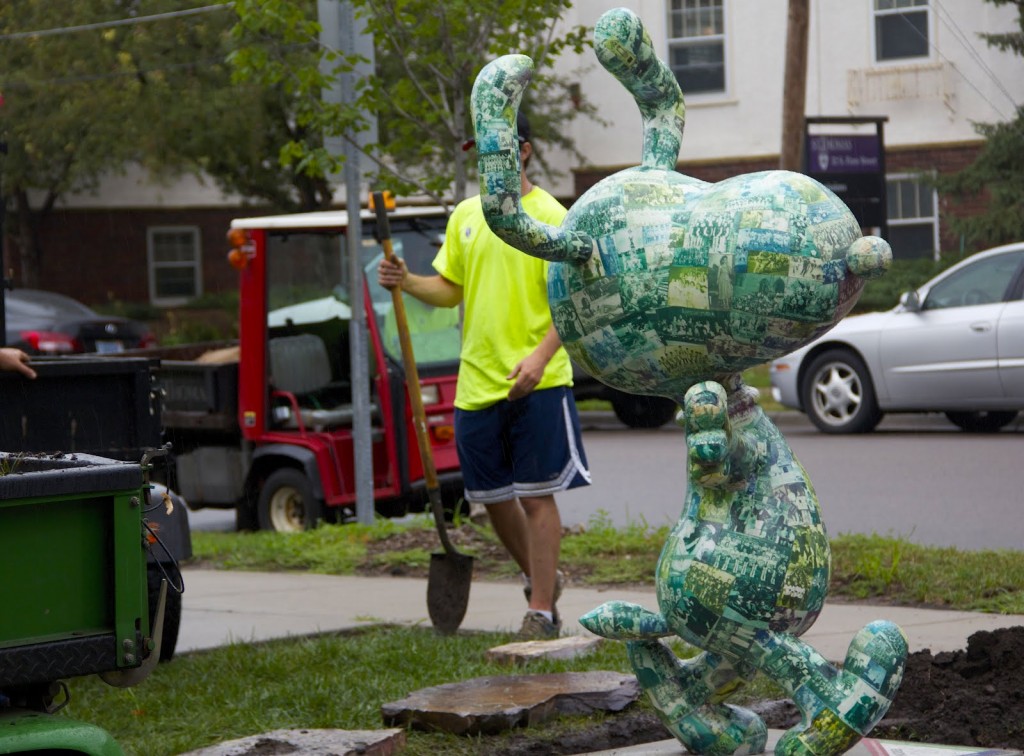 St. Thomas students may be tempted to skip to class this fall when passing Finn and Grand avenues. A dancing Snoopy statue now strikes a playful pose at that intersection.
After Snoopy's creator Charles Schultz died in 2000, artists across St. Paul designed and displayed individual "Peanuts" characters; and some were auctioned off. A St. Thomas graduate, who purchased a Snoopy statue, has now donated it to the university.
Bill Kirchgessner, St. Thomas marketing communications executive director, said the alumnus was closing his business when he decided to make the anonymous donation.
"It's a piece of public art that when he was given the opportunity to decorate it, he chose to decorate it with St. Thomas' images, which means St. Thomas meant a lot to him," Kirchgessner said.
The elaborate photos and work are hard to miss, and Kirchgessner said the alumnus spent time choosing the look.
"He came over and picked out the images from the archives; they made copies there for him; and as you can see, it's old historic images of the university," Kirchgessner said.
Some students who live in one of the apartment complexes across the street noticed the addition to the campus.
Senior Brandon Gatzke took a closer look at it to see the detail.
"It seems like there is a lot of St. Thomas history on it. It has older graduating classes," Gatzke said. "It's really a cool way to commemorate St. Thomas."
Kirchgessner said the university chose the location for two reasons. One of the reasons was physical, to stay out of the way of the watering system on campus, and the other was for the children.
"We thought it would be the natural spot for it, by the child care center," Kirchgessner said. "We chose that spot because it was so public, and the kids would be able to see it."
Senior Kristie Miller likes the location.
"The children's center is right there. The kids will love it," Miller said. "It's kind of at the edge of campus; so if people drive by, they can see it. You won't have to walk through campus to see it."
Senior Tyler Erstad said the historic piece of art means a lot.
"I've seen the other Snoopy statues around St. Paul," Erstad said. "It's pretty cool that the St. Thomas campus has one now. I think it's important to have such a strong alumni base and that they want to donate back to the campus."
Kirchgessner said that the alumnus didn't randomly choose St. Thomas to place the Snoopy.
"When it came time for him to close his business and move out of the space he was in, he thought enough of St. Thomas. That's where it should be," Kirchgessner said. "He obviously has a very close relationship and good feelings for the university."
Hannah Anderson can be reached at ande5385@stthomas.edu.