Undergraduate Student Government is working with a company called Double Map Technology to develop a tool that will allow students to track St. Thomas' inter-campus shuttles through GPS on their smartphones or computers.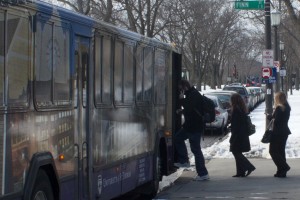 The technology will allow students to know exactly where the shuttles are at all times through the St. Thomas mobile site and will let them know if the bus is running late.
"They put GPS trackers in the shuttle buses that we have," USG president Mike Orth said. "Then, they'll put that data on our St. Thomas website and track where (the buses) are in real-time."
Orth said that the technology would initially be limited to use on computers and smartphones.
"Eventually, what we'd like to see happen is have monitors around campus and TV screens that will show where the shuttle bus is," Orth said. "We can utilize the TVs that we have in the new student center."
Sophomore Alex Rollins lives near the St. Paul campus but said he visits the Minneapolis campus often. He said his issue with the shuttle is that "it's never on time."
"There have been instances where the bus will only wait at the stop for about a minute," Rollins said. "Then it will pull away as I'm still walking up to it. It gets really annoying because then I end up having to wait for another 20 minutes to a half hour."
Junior Max Romanaggi said he has class twice a week at the Minneapolis campus and has to take the shuttle there.
"I know that the buses are kind of unreliable, so I actually take the first bus," Romanaggi said. "A lot of the time I end up getting there 30 or 40 minutes before class starts. It would be really nice to be able to get there on time."
When asked if he would benefit from a way to track the buses with the new system, Romanaggi said, "It would really help me out a lot."
Orth said he hopes to have the feature released by the end of this academic year, but it is still in the early stages of development.
"The cool thing about the Double Map Technology is that the company is willing to do it free for St. Thomas," Orth said. "They're a new company and getting started; they want to get their name out there.
"We will be meeting with the company in a few weeks to do a demo. Hopefully soon after that we should get the ball rolling on actually implementing it."
Nick McAndrews can be reached at mcan1933@stthomas.edu.