Aïcha Ech Channa, founder and president of a Casablanca, Morocco, organization that provides services for unmarried women with children, won the $1 million 2009 Opus Prize.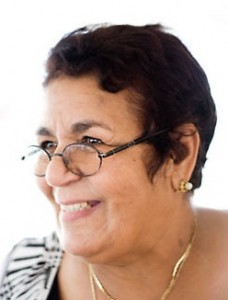 St. Thomas and the Opus Prize Foundation of Minnetonka presented the award Wednesday night in Minneapolis' Orchestra Hall. The other two finalists – Sister Valeriana García-Martín of Bogotá, Colombia, and the Rev. Hans Stapel of Guaratinguetá, Brazil – each received $100,000 awards.
Although the Opus Prize Foundation has worked in partnership with Catholic universities since 2004, the recipient may be of any faith. With the announcement, Ech Channa became the first Muslim to win the award.
The honorees, who each received numerous standing ovations from the receptive crowd, will use the award money to further their faith-based humanitarian efforts.
Junior Sahr Brima, one of the three students who paid due-diligence visits to the three honorees, said the ceremony highlighted the greater purpose of their work.
"I think it was glorious, just the whole thing," Brima said. "It was all basically to glorify God. Even the [honorees] know that it wasn't about them; it's about the way that God is moving through their lives and affecting people around them. That was awesome for me. It was really the experience of a lifetime."
The honorees were selected for their roles as "unsung heroes creatively transforming lives through a commitment to service and social entrepreneurship."
"The Opus Prize recognizes individuals whose work and story can inspire us to tackle the world's most deeply rooted problems," said Amy Sunderland, executive director of Opus Prize Foundation. "They demonstrate what faith, will and vision can do to make our world a better place. They show us change is possible."
Senior Rachel Nichols said she was impressed by all three honorees but felt that the winner was "very deserving."
"Just seeing the things that these people have done is incredible," Nichols said. "I thought they were all very deserving. I don't understand how they were able to pick out of all of those three. I thought they were equally extraordinary."
The Opus Prize recipients were selected through a process administered by St. Thomas. The confidential selection process began with 23 nominees. The St. Thomas committee narrowed the list to 10, and a jury of community leaders selected the three finalists.
St. Thomas students, faculty and staff accompanied foundation representatives on due-diligence visits with the finalists in May and June. The foundation board chose the winners of the $1 million and $100,000 prizes.
Winning charity is 'a model that can be carried everywhere in the world'
Ech Channa founded the Association Solidarité Féminine in 1985 to provide services for single women and their children. She started in a basement and now operates three day-care centers and training schools, two restaurants, four kiosks and a hammam (fitness center and spa).
"I want Solidarité Féminine to be a model that provides an example for the respect of human rights, economic development and confidence in humanism," Ech Channa said. "This is a model that can be carried everywhere in the world."
The association gives 50 women training every year in literacy, human rights, cooking, baking, sewing, fitness services and accounting. Participants also receive daily child care and medical treatments in addition to social, psychological and legal support.
Her organization was officially recognized in 2002 by the government as a charitable organization and has received support from Moroccan King Mohammed VI.
The two runners-up serve children, addicts
García-Martín, 68, is founder and director of Hogares Luz y Vida – Homes of Light and Life – which cares for 140 children with physical and mental disabilities and today has eight locations in the Bogotá area, including an elementary school and day care centers that integrate children with and without disabilities.
"The life I wish for these children is one of quality, because they deserve that," García-Martín said. "All we do is with quality, with love. If we are able to come near and give them a hug, then we must do it with love. If we are going to give them food, we give it with love. If we are going to clean their little faces, we do it with love."
Stapel is co-founder and president of Fazenda da Esperança – Farms of Hope – which has established more than 60 therapeutic communities in 10 countries to help people with drug and alcohol addictions rebuild their lives.
Stapel, 64, a native of Germany and a Franciscan priest, established Fazenda da Esperança in 1983 to help drug addicts in Guaratinguetá. Since then, the enterprise has grown to include operations in Argentina, Guatemala, Germany, Mexico, Mozambique, Paraguay, the Philippines, Russia and Uruguay.
Addicts live in houses of 14 persons for a year, supporting each other in addition to being guided by two recovering addicts. As many as 2,000 people are under care at any one time. More than 10,000 people have participated in the program, and 80 percent have abstained from further drug use.
"In the first part, we are the ones who carry them," Stapel said. "After that, they are able to walk for themselves. But the most important part is the third one, when they are the ones who will carry others."
In addition to Wednesday's event at Orchestra Hall, the three honorees participated in a series of activities at St. Thomas, including luncheon discussions with St. Thomas students, staff and faculty.
"St. Thomas has been honored to serve this year as a partner to award the Opus Prize," said the Rev. Dennis Dease, university president. "We have been proud to host the winners on our campus, and I know they have been a real inspiration to our students, faculty, staff and the larger community."
Brent Fischer can be reached at bafischer@stthomas.edu