T's and Scooter's on-campus restaurants have started advertising for an eco-friendly container that customers can use every time they purchase a meal.
Gayle Lamb, cash operations manager of Dining Services, said the two eateries are working on making the product known.
"We've actually had them for quite awhile, we just haven't had a chance to focus on getting advertising out about them," Lamb said. "We're trying to encourage people more word-of-mouth to use them so that we're not using so much plastic."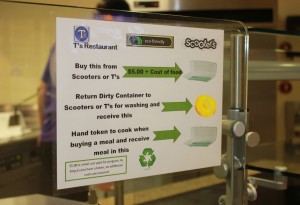 Lamb assures this method is the best way for food services to keep the cost down and consider the environment.
"Everybody asks for a to-go (paper container), and I take a walk through the dining room, and they're sitting out in the dining room eating it out of a to-go container," Lamb said. "For us, it would help if they would have it served on a plate because the containers cost money."
The container is a one-time $5 purchase, and is washed by a staff member after it has been used.
"After you've used the container, you get a golden token. It's just a plastic coin so that you can bring the dirty container back," Lamb said. "So the next time you come in to order, you can just give the server the coin, and they'll put your food in the reusable to-go container."
Lamb said Dining Services discovered the idea through the National Association of College and University Food Service.
"We thought it was really a great idea because the containers are good quality," Lamb said.
Lamb said Dining Services has tested the containers.
"We put spaghetti sauce in them," Lamb said. "I figured that would be a food that would leave a stain. It did not."
T's also offers a quarter reduction in price when used for a salad. Despite the incentive, senior Wei Zou, who works at T's, said it hasn't interested many students.
"I didn't see many people using it," Zou said. "The only people I see using it are the staff members."
Freshman Mercedes Vetter said more people may use them if they knew about the containers.
"They could put them on display more or offer them every time someone buys something," Vetter said.
Junior Ranitha Rajaratnam said she's not too sure of how eco-friendly the container may be.
"I don't know how effective that would be, I don't know if it would use more water," Rajaratnam said. "If you're going to wash every single reusable container, I don't know which is more eco-friendly."
Tarkor Zehn can be reached at zehn0241@stthomas.edu.