With Undergraduate Student Government elections approaching, many students are deciding whether to run for positions. However, it appears these students tend not to be women.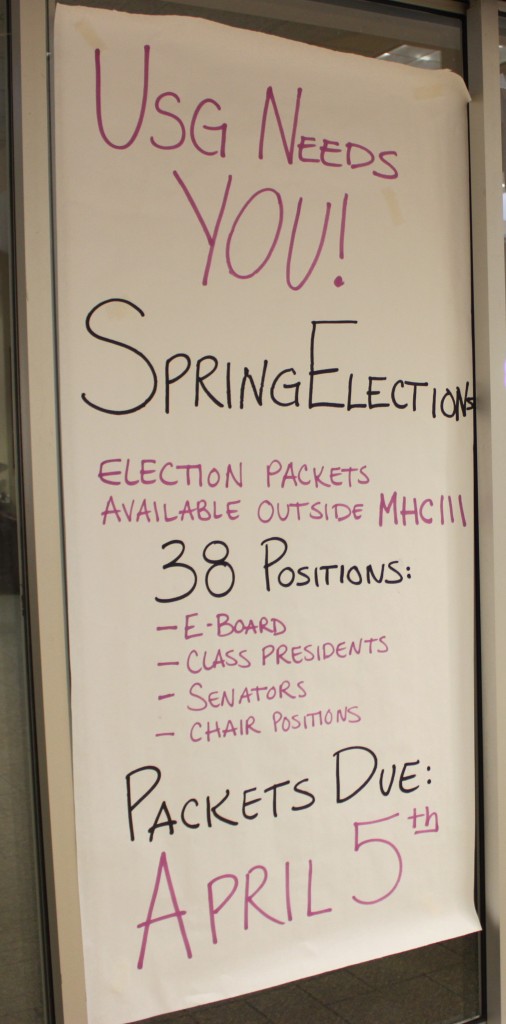 Of the 50 colleges ranked highest by the U.S. News & World Report, less than a third of student presidents are women, according to The Washington Post.
Mike Orth, USG sophomore class president, said the lack of women in student government across the nation is surprising.
"There's the talent there, but for some reason or another they're either not running or not winning," he said.
Orth said USG overall is fairly representative of the amount of undergraduate men and women enrolled at St. Thomas. But the gender gap is evident in high-tier student representatives.
"Here at St. Thomas, about 40 percent of USG is female," Orth said. "But if you look at the class presidents, one out of four is a female," Orth said. "If you look at the executive board for USG, one out of six is a female."
Junior Greg Schraine, USG vice president of financial affairs, said no woman has ever held his position in the history of St. Thomas.
"Until this year, it has never been anyone other than a white male," Scharine said. "But if you look at the demographics of a finance major, most of them are white males. Still, if you have a good sense about business and accounting, you can do this job."
Senior class president Marcy Warren, who was junior class president last year, said it is important to have women in student government to accurately depict the student body.
"I think student government gives great opportunities to both men and women to become involved, because they are voted in by their peers and should fairly represent their constituents," Warren said.
Past female student body presidents
Since St. Thomas went coed in 1977, there have been seven women student body presidents.
Alumna Britney Bryant worked her way up the USG ladder as freshman class vice president, sophomore class president, vice president of finance as a junior and finally president as a senior during the 2008-2009 school year. Bryant said she felt pressure to prove that a woman could handle being president.
"I felt, at moments, that I was up against the men and that I had to fight for respect and strength in my decisions," Bryant said. "Just being the student body president, man or woman, there is a lot of things you learn and that you learn fast. As a woman in this position, I felt there was an extra added responsibility of showing that a woman can do it."
Rachel Wobschall '81 was the first woman president of the All College Council, now known as USG.
St. Thomas enrollment today is more than 50 percent women, but when Wobschall was president, that number was 39 percent. Wobschall said women struggled to be represented at first.
"When I was a freshman, the first year women were admitted for the undergraduate program, there was some discussion on the ACC before the fall elections if there should be a women's representative," Wobschall said. "The feeling at the time was that a woman could not get elected."
Yet Wobschall became the first woman elected to the ACC as a freshman. She first served as a class representative and then academic vice president. Finally, Wobschall was elected president her senior year.
"I decided to run and had some great women who lived in Murray Hall who supported me," she said. "They snuck into the cafeteria one night and had a banner that ran the full length of Murray Hall that said, 'Vote for Rachel.'"
Wobschall said the increased number of clubs and organizations now could be the reason why fewer women are in student government than men.
"Perhaps there are more women in leadership positions in those clubs," Wobschall said.
National government trends
This trend can also be found in nationally-elected positions. Wobschall said there are several possible factors why 12 percent of governors and 17 percent of members of Congress are women.
"A career in government is challenging and rewarding at the same time," she said. "The hours are long, and the pay is much less than one can make in other fields. I think that discourages some women, especially those who want to have a family and those who do not enjoy raising money."
Angela High-Pippert, political science professor and director of women's studies, said more women student leaders would help increase the number of women governors and women in Congress.
"They would be more apt to be in the political pipeline and see themselves as potential candidates, and others would see them as potential candidates," High-Pippert said. "This is why I love to see any woman, any time running for office, from student government to president of the United States. More women running means more women winning. More women winning means more women running."
Upcoming USG elections
Orth said he thinks USG will likely have less women next year than this year.
"It's a difficult trend, and it's something that I'd like to see reversed," Orth said. "We are working pretty hard to attract good candidates, so it's something we're always working on."
But Warren said she believes a good number of women will run.
"I do expect a great turnout of applicants," Warren said. "I have been and am currently talking to a few friends who want to be on USG, and so far the majority have been women who are interested in running for an elected position for the 2011-2012 school year."
Election packets are due at 6:30 p.m., April 5, at the mandatory candidates' meeting.
Cynthia Johnson can be reached at john3175@stthomas.edu.