Editor's Note: Throughout the week, TommieMedia will be addressing green issues on campus and giving insight into the question of "How sustainable is St. Thomas?" Make sure to check out the sustainability page for daily updates.
St. Thomas received a 'B' for its food and recycling program from greenreportcard.org and it seems as if St. Thomas is falling behind, as neighboring schools Macalester College and the University of Minnesota both received an 'A-'.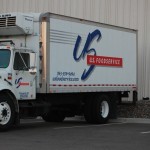 The food and recycling category examines dining service programs by giving points based on the quantity and availability of organic, sustainably produced and locally grown food.
Dining services manager Todd Empanger said St. Thomas is doing its best to buy locally by buying products through U.S. Foods.
"What we try to do with a lot of our foods is buy locally," Empanger said. "Local to us is within a five state area, but when you get into produce and all that other stuff it comes from the east or west coast and Mexico."
Lack of local farmer relationships
Many of St Thomas' vendors are local, such as Gold'n Plump, Kemps and General Mills. The main reason for the 'B' is because St. Thomas does not have any relationships with local farmers.
"We try to do as much as we can, but because we are in Minnesota and in the cold weather, we can't always buy from the local farms." Emganger said. "It's something we've been approached on but there are a couple things we need to think about, like availability, volume, time of year, that we can get some of the products."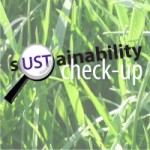 But just a mile down Grand Avenue, Macalester College purchases from six local farms directly.
"[Buying local] helps your local economy so it helps your businesses and your local economics, but also you don't have as many greenhouse gas emissions transporting your food," said Suzanne Savanick Hansen, sustainability manager at Macalester College.
Macalester has a contract with Bon Appétit, which sets up many of its relationships with local farms.
"They try to get local food where they can." Savanick Hansen said. "[Bon Appétit is] a leader in that area, incorporating sustainability in food service."
Savanick Hansen says there are organizations that connect local farmers with universities.
"There is a Midwest Food Alliance that connects farmers with institutional food vendors so you don't have to start from ground zero," she said. "That is their mission; to connect institutional food people, people who are trying to buy for universities and other kinds of companies with farmers on the ground making food."
St. Thomas' urban location makes it hard to buy from local farms. Macalester College has taken that problem into its own hands by creating an on-campus community garden to offer fresh local fruits and vegetables for students.
Michael Ewen can be reached at mtewen@stthomas.edu