October brings football games, changing leaves and Greek life at most universities. But at St. Thomas, sororities and fraternities are considered clubs, which makes the Greek part of the college experience less visible.
Senior Meghan Peterson, Gamma Sigma Sigma president, said Gamma is on a fine line between a club and a sorority.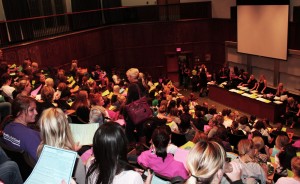 "St. Thomas doesn't allow 'Greek life' per se on campus," Peterson said. "In the eyes of St. Thomas, we are an on-campus club, but in the eyes of our national board, we're a sorority."
National ties create problems
Assistant Director of Campus Life Tara LaFerla said St. Thomas clubs with national ties often run into problems, such as money issues.
"Some clubs have ties to national offices, but they are still using student activity fee money," LaFerla said. "For the day-to-day operations, that national office doesn't run the club. So when clubs do their budget request with USG, they're asking for some of the student activity fee money. Ultimately, when an undergrad is paying the fee and that money is being tied to a national office, it's a conflict of interest."
Gamma Sigma Sigma and Sigma Chi are the two major sorority and fraternity clubs on campus with ties to national offices.
Peterson said the sorority and fraternity clubs want more St. Thomas support.
"It's unfortunate that St. Thomas doesn't have Greek life. It could add a lot to our campus," Peterson said.  "It's sad that we're the only sorority club on campus. I think we would have more competition if there were other Greek organizations for girls on campus, but I think it would be an added experience to the college community."
Fraternity unaffiliated with St. Thomas still attracts students
Sigma Tau Omega is a fraternity that is not recognized by the university, but has St. Thomas students as members.
Sophomore Anthony Guidotti, Sigma Tau Omega executive vice president, said the fraternity enjoys doing service around the St. Thomas community, but St. Thomas makes it hard for them to spread their message.
"We're really not looking for funding from the university, but unfortunately we can't advertise on campus because we're not a club," Guidotti said. "This makes it hard for us to get our mission out there and it's hard to build people up as leaders if we can't advertise."
Clubs must manage without fraternity and sorority houses
St. Thomas sorority and fraternity clubs are not allowed to have houses, a signature symbol of Greek life.
"A lot of people say if you don't have a house, then it's not Greek life," Peterson said. "But really, it still is Greek life. We still have our Greek letters, we wear our pins, and we still do things that other Greek organizations do. We just aren't allowed to have a house because we are a club."
Guidotti said he is frustrated there is no regular meeting place for his fraternity.
"Because we're not a St. Thomas student organization, we cannot reserve any rooms on campus," Guidotti said. "And then because we don't have a house, it makes it hard to have structured meetings."
Guidotti said he wishes the university would be more supportive.
"We just want to promote selfless service," Guidotti said. "We don't promote the animal house stereotype with drinking and partying. Sigma Tau Omega is about education and creating leaders, creating gentlemen."
University guidelines regulate "exclusive" clubs
Sorority and fraternity clubs also deal with membership issues. According to the St. Thomas club handbook, there can be no "arbitrary exclusion on basis of race, color, gender, sexual orientation, religion, national origin, or handicap" if the club is not exclusive. Peterson said she was just informed of this a few months ago.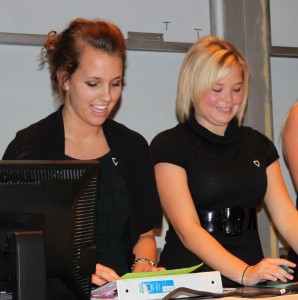 "Apparently, if boys want to be a part of Gamma, we have to allow them," said Peterson.  "We didn't know that before because a guy has never tried to rush."
Peterson said a male student from Augsburg contacted her, "but he didn't show up to initiation."
Senior Jeremy Priem, Sigma Chi president, said they do not have to deal with this problem.
"We are slightly unique because we are considered an exclusive club, meaning we do not have open enrollment and are given the authority to decide who can become a member," Priem said.
Sigma Chi does include women.
"Our chapter does elect a female representative each year and she receives the title of 'Sweetheart,'" Priem said.  "She is a woman who is seen to posses the values and ideals of the fraternity and represents them in her everyday activities throughout the campus and community."
Priem said he wants Sigma Chi's mission to be known to all St. Thomas students.
"We just want to expand our presence on campus as we look to sponsor more unique events in which the entire student body can enjoy," he said.
Cynthia Johnson can be reached at john3175@stthomas.edu.