Instead of walking under cardboard arches at the Metrodome, students will walk under the same cardboard arches on the St. Thomas football field and then take photos under the real arches with their classmates after the spring 2011 undergraduate commencement ceremony.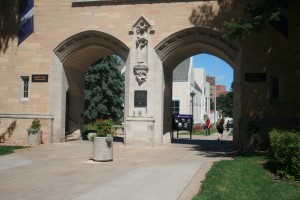 Taking photos under the arches with the rest of her classmates on graduation day is a tradition she is glad she can continue, said senior Jennah Bordson. She said if graduation had been at the Metrodome, it would've been hard to drive back to St. Thomas and walk under the real arches one last time.
"There's a completeness to walking under the arches," she said. "Graduation wouldn't have been the same without that experience."
This year's commencement ceremony will take place in the St. Thomas football stadium, unlike last year's ceremony that was held at the Metrodome due to construction on campus.
"We actually didn't have a place to line up students," said Liz Pojar, commencement coordinator. "Typically they would line up in the field house but when the field house came down we lost the place to line up students so that was the main reason why it was off-campus."
Parking was not a factor in deciding to move the ceremony off-campus last spring, and parking will not be an issue at the ceremony this spring either, Pojar added.
This year's graduation will be "nice because we'll be able to highlight the new spaces for the guests that are coming," she said.
The initial reaction to having graduation off-campus last spring wasn't positive, but people thought the ceremony at the Metrodome was a success, Pojar said. But she added that she thinks people will be pleased it's back on campus.
"I spoke with the USG president and he was very happy to hear it was going to be back on campus because he said people were upset even though it worked out well," she said.
Since she will graduate this December and St. Thomas no longer has a December commencement ceremony, Bordson could have chosen to participate in the 2010 or the 2011 spring commencement ceremony.
"Since they no longer have December graduation, I decided to walk May 2011 because then I can have graduation at St. Thomas and walk under the arches," she said. "I'm glad to know I'll be carrying on a St. Thomas tradition that I feel is very important."
Rebekah Frank can be reached at rfrank@stthomas.edu.
Katie Broadwell contributed to this story.