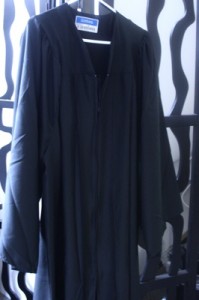 Some universities, including St. Thomas, will trade in polyester graduation gowns this spring in favor of biodegradable and recyclable options.
Several companies offer environmentally friendly graduation gowns. St. Thomas' gowns are supplied by Minneapolis-based Artneedle Robe Company, bookstore manager Tony Erickson said.
Artneedle's biodegradable gowns are made of acetate, which is made from tree and plant fiber, and are compostable.
Nationally, about 100 schools ordered environmentally friendly gowns, compared to about 1,500 that stayed with polyester.
Macalester College uses National Student Services to supply its gowns, said Pat Traynor of Macalester's office of student affairs.
Recycling bins are put out after commencement and graduates drop their gowns in the bins. Macalester's gowns are also donated to local high schools.
In the past, St. Thomas has collected gowns and donated them to East Metro Women's Council, a local women's shelter, Erickson said. The shelter uses the gowns for its own graduation ceremony.
Artneedle recently introduced a gown made from recycled bottles, and Erickson said this type of gown could be an option for St. Thomas in the future.
Katie Broadwell contributed to this article.
Gina Dolski can be reached at grdolski@stthomas.edu