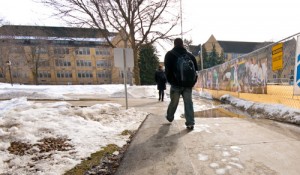 With more than seven miles of sidewalk, one parking ramp and parking lots galore, Grounds Supervisor Bob Reed and his crew have a lot of areas to clear, making sure all ice and snow are removed.
Members of the crew range from full-time help to student workers and are on the job by 3 or 4 a.m. Each is in charge of taking care of his or her assigned area, dealing with whatever needs to be done, whether it be brushing, salting or plowing snow and ice.
Although this winter has been no more intense than what Reed has seen in previous years, the grounds crew has already used more than 3,000 pounds of salt this semester.
"Our goal this year was to use half the amount of salt we usually do, and since Christmas we have actually used three times as much," Reed said.
But Reed expected to use this much salt after the Christmas snowstorm. Because grounds crew did not work over break, a thick layer of ice formed under the snow on the sidewalks, he said.
When the grounds crew finally returned, the amount of ice and snow on campus sidewalks and parking lots put great stress on the grounds crew's machines, ultimately causing some of the equipment to wear out, he said.
"Our salt truck is currently broken down, so we've had to do everything by hand," Reed said.
Even with broken equipment and the daunting task of salting by hand, Reed and the grounds crew always keeps students needs first. However, having students on campus causes the grounds crew some difficulty.
"Working around students can be hard," Reed said. "Some won't be paying attention and walk right into the brushes. Then they get flicked with snow and end up with a surprised, scared look on their face."
With more students on campus, accidents sometimes happen. Freshman Megan Buelow had one Tuesday morning, Feb. 16, on her way to class.
After slipping between Murray-Herrick Campus Center and O'Shaughnessy Educational Center, Buelow was sent to health services to be checked over, but ended up spending the rest of her day in United Hospital in St. Paul.
"I needed a CT scan done on my head and my face. Luckily I didn't have anything broken, just badly bruised and a concussion," Buelow said.
Reed makes sure that the grounds crew does everything it can to clear the grounds of ice and snow. Because of this, he and his crew have been confronted by City of St. Paul for clearing the wheelchair cut out off St. Thomas grounds, as the curb cutout on the corner of Summit and Cretin is inadequately made for handicapped students.
"We have one handicap student that needs access to South Campus, but the city doesn't want us to clear their sidewalks," Reed said. "However, we need to stay on top of her needs first and make sure that sidewalk is clear."
The grounds crew's hard work and struggle with the city does not go unappreciated.
"The grounds crew has been doing a great job of clearing the snow," sophomore Ann Motl said. "I don't have to worry about getting stuck on my way to class anymore, since three of my classes are on south (campus). I am very grateful and would like to thank them very much."
Although it may look like most of the ice and snow is cleared, students still need to stay aware, even in high traffic areas such as where Buelow fell.
"Lately we have been getting a lot of freezing rain and runoff that will refreeze over night," Reed said. "We do our best to keep it clear, but there are sometimes when we can't get to everything. Freezing rain is a groundskeeper's nightmare."
Meg Tvrdik can be reached at tvrd0386@stthomas.edu.