Home-schooled students who now attend St. Thomas tend to perform at a higher level than traditionally educated students, according to a study by Michael Cogan, associate vice president for institutional effectiveness.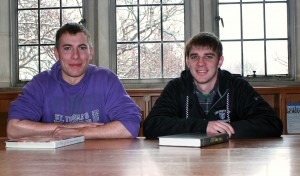 Cogan's study had four key findings about home-schooled students: they had higher first and fourth year grade point averages, higher four-year graduation rates and similar retention rates.
Senior Joe Cronin said that his homeschooling experience prepared him for success in college.
"I feel like it definitely gave me a desire for intellectual stimulation… I think through (home schooling) that one of the biggest things I learned was just how much I could accomplish on my own," Cronin said.
On the other hand, Cronin said the biggest downfall of homeschooling was a lack of socialization.
"I interacted with three people: my mom and my two sisters," Cronin said. "(Not) learning how to meet new people and form relationships was one of the biggest downfalls of homeschooling, but that is something that can also be fixed or ameliorated if you make an effort to put your kids in camps or other programs."
Junior Joe Hubly said he thought the biggest disadvantage of homeschooling was the lack of a diverse education in math and sciences.
"That is obviously where I lacked on my ACT—math and sciences—because we didn't have a real strong support… it is hard for one person to be good at everything," Hubly said.
Although freshman Lyssa Bremseth's mother was her primary teacher through elementary and middle school, tutors and teachers taught Bremseth in the sciences during high school.
"(Mom) didn't want to dissect anything on the kitchen table; it kind of worked out because that wasn't her strong suit," Bremseth said.
Cogan's study showed home-schooled students reported significantly higher ACT scores compared to the overall student body.
Despite stereotypes, Cogan said he also believes that students who were home-schooled do not necessarily lack socialization.
"My thought was that if they are not being socialized, then they probably won't do well in college," Cogan said. "But what we found here at St. Thomas is that they do well. If they weren't doing well then they probably wouldn't be here."
Bremseth said her homeschooling experience actually improved her social skills.
"I had just such a great variety of friends, from church to the public school to friends in theater," Bremseth said. "I think (it) really strengthened my social skills and ability to communicate with a wide variety of people."
Patrick Roche can be reached at Roch6667@stthomas.edu