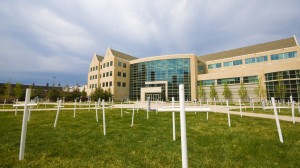 More than 100 crosses are scattered across the front lawn on the Minneapolis campus as a "Cemetery of the Innocents," organized by Lex Vitae, a pro-life student group at St. Thomas' law school.
The display is designed to commemorate the deaths of unborn children by abortion since the passing of Roe vs. Wade in 1973, according to the Bulletin. It will run through Friday, April 16, coinciding with Gov. Tim Pawlenty's proclamation of April as "Abortion Recovery Awareness Month" throughout the state.
Lex Vitae aims to protect the dignity of human life from conception to natural death. The group has worked on pro-life cases, attended the March for Life, organized a baby clothes drive, and lobbied at the Student Day at the Capitol.