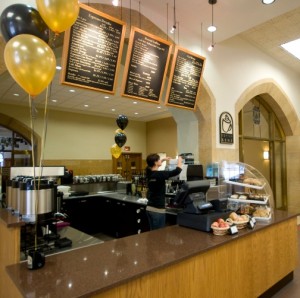 Since opening in February, Coffee Bené has attracted students who take advantage of having a private vendor on campus.
"We thought it was an interesting idea to have an independent, local operator who was already in the business of making premium coffee," said Dan Gjelten, director of libraries. "It was important to us that we have really the highest quality coffee available."
Mark Vangsgard, vice president for business affairs and chief financial officer, said they could have used campus food services to start up a coffee shop in the library, but didn't for a couple reasons.
"Our students were already going to Coffee Bené," Vangsgard said. "It was a recognized name. It was a recognized brand. It was something that was already acting like a magnet to our students. So that seemed to be kind of natural."
The ability to draw students to the library is what both Gjelten and Vangsgard said was the intention behind bringing a coffee shop to the library. They both said the new addition was meant to bring more of an academic energy to the library.
"I think our food service people can certainly use the same equipment and make the same stuff," Vangsgard said. "But there's something about the appeal of Coffee Bené that is interesting to students, and therefore, more of a magnet then it would if it were our own food service. And again, the objective isn't necessarily to sell coffee, it's to get people to use the library more, and be comfortable."
Impact on other campus coffee destinations
As of now, Coffee Bené has no impact on the coffee sales at the Grill or Scooters, according to Gayle Lamb, cash operations manager for dining services. She said when it comes to coffee, students are looking for convenience, so they'll most likely buy it from the closest location.
Lorna Rockey owns the Rockey Grounds Coffee stand in Brady Educational Center. She also said the new shop in the library has not affected her business. Because she serves customers on South Campus, she said the business at Rockey Grounds Coffee won't change.
Vangsgard said if Coffee Bené ever does start to impact sales of food services vendors, like Beakers and the Grill, it may not be much of a problem.
"I suppose it depends on the magnitude, maybe," Vangsgard said. "But if the usage of the library, the energy of the library, and whatever else are at the levels of what we want it to be, and hope that it can be, then maybe it's worth it."
Students appreciate outside vendor's presence in library
Students are taking advantage of Coffee Bené's convenient location, and some say they're glad it's Coffee Bené instead of a food services coffee shop.
Sophomore Nicole Pilarski said she hardly ever bought coffee on campus until Coffee Bené opened.
"I like Bené better than I like Beakers because they know how to make coffee better, I think," Pilarski said. "The quality itself is just better than Beakers. I have a preference for Bené. I can't even put my finger on it, but it just tastes different."
She also finds herself in the library more often.
"I used to come to the library like on Sunday nights because I needed to get all my homework done," Pilarski said. "I'm here pretty much every Monday, Wednesday, Friday now."
Pilarski is not alone in thinking that choosing Coffee Bené over food services was a good decision.
Freshman Eric Weber said he probably wouldn't have come as much if there was an on campus vendor coffee shop. But since Coffee Bené has opened, he has been a frequent customer.
"I wouldn't have gone out of my way to get coffee before," Weber said. "But now that it's here, it's accessible, it's easy to get, and it's good."
Sophomore Jen Davis said the coffee shop provides a convenient break for students who have been at the library for a long time. But she doesn't think the fact that it's Coffee Bené is necessarily important.
"I don't think it matters if it was Coffee Bené or Beakers, or what," Davis said. "Any type of coffee or food here, people would go for it."
Vangsgard said he doesn't think the coffee shop sets a precedent for other private vendors on campus, meaning students won't be seeing any other private vendors around campus.
He said coffee has become a specialty item, and having a brand-name vendor in the library is adhering to a social change in academics.
"As students in high school, now, do a lot of their studying at Starbucks and Caribou and Dunn Brothers, and whatever else, those things kind of transition to the collegiate environment," Vangsgard said. "All of sudden you have the biggest reading forum around — the library–and there's just a natural gravitation to say, 'Where's my cup of coffee, my specialty coffee?'"
Kelly Trussell can be reached at kmtrussell@stthomas.edu.