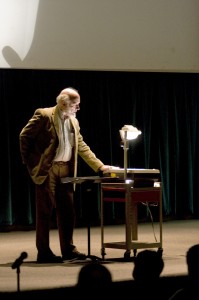 The unofficial slogan of Edina, Minn., used to be "Not one Negro and not one Jew," according to James Loewen.
Loewen, a nationally esteemed author and sociologist, shared this story with about 200 people during his lecture Monday night in the O'Shaughnessy Educational Center auditorium. The speech kicked off multicultural student services' challenge day event.
Before beginning his talk, Loewen commended St. Thomas students for coming to be challenged, especially because their generation is characterized as "generation me."
"[Loewen's perspective] challenges students to think about what they usually don't think about," freshman Katie Zimmler said. "He challenged students to seek the truth and perhaps expand beyond that."
In his lecture, Loewen, a Carelton College graduate, called upon students to change race relations by keeping their ears and eyes open to the American history that most were not taught in school. Loewen said our country's denial of a complete and accurate history is "an outrage."
"It's messing up our country," Loewen said. "You guys are the ones who need to fix it."
The same theme resonates through Loewen's New York Times' bestseller, "Lies My Teacher Told Me: Everything Your High School History Textbook Got Wrong."
A lost historical era
Loewen's lecture aimed to discuss a time in American history–the nadir of race relations–that he said is "the most important era of history that you've never heard of." This period, which lasted from 1890 to 1940, is one of the most significant eras American history textbooks leave out, according to Loewen.
This era marks a troubling period of race relations and leaves us with two great legacies: distorted history and sundown towns, white communities where black people were not allowed after dusk. It was an era marked by lynching, legislation and the rise of the Ku Klux Klan, which worked to disenfranchise black American citizens, Loewen said.
Loewen argued that it is important for students to study this period of history, but the nadir "doesn't really fit with history the way it's written now," he said. Regardless, Loewen stressed the importance of studying it.
"I think there's a reciprocal relationship between truth in the past and justice in the present," he said, noting that this process starts by educating people about what really happened.
Challenging students' historical perspectives
Students who attended the lecture said it raised some new thoughts and ideas.
Sophomore Ge Vang said he found Loewen's lecture "interesting and informative."
"It felt good knowing more about history," Vang said, adding that the lecture covered things he said he never learned in history class, especially about the sundown towns.
Junior Sandy Moran said the lecture was a "great opportunity."
"It was a really good lecture for students to learn, especially at a school that's predominately white," she said. "More of these discussions need to happen on campus."
Zimmler said Loewen emphasized students should think about what they usually don't think about.
"He challenged students to seek the truth and perhaps expand beyond that," she said.
Grant Goerke contributed to this report.
Theresa Malloy can be reached at mall5754@stthomas.edu.