With a new location two blocks away from the Metrodome, in Minneapolis, this summer's Midwest Tomato Fest is expected to be bigger, better and messier than last year's test run.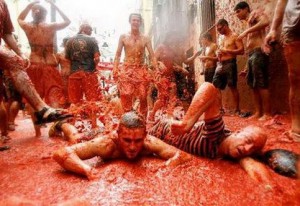 Last year, the event was headlined by performances from Shwayze and the Cool Kids and drew more than 3,300 people to Afton Alps, an outdoor recreational area in Hastings, Minn.
Although this year's music list is still in the works, some of the lineup is already set. The day will open with Absolute Gruv, a blues/jam band that includes St. Thomas students. Following them will be The Blend, an alternative/hip hop/rock band and the Tim Sigler Band, a country band.
St. Thomas senior Kamal Mohamed and recent graduates Kevin Walker and L.J. Stead created the festival after they took a service trip together in India and met a girl from Spain.
She told them about the Spanish tradition of an annual giant tomato fight, and they decided to bring the festival back to Minnesota.
"It was a unique idea that had not been brought to Minnesota," Walker said. "It was kind of a new idea in the U.S. in general, taking a Spanish festival and Americanizing it with live entertainment."
Mohamed, Walker and Stead hope that adding local bands and bringing in local food vendors like Barrio, Simply Steve and World Street Kitchen, they will bring Minnesota culture to life and attract more than 10,000 people.
"It's really a celebration of the tastes, sounds and environment of Minneapolis," Stead said. "That resonates so well, and people like to get involved with that."
Tomato Fest grew because of its partnership with LivingSocial, a $3 billion company that features tickets and excursions to local events online and through a cellular app. Mohamed said the festival tickets will be sold through the company and will be marketed to people in Iowa and Wisconsin.
Walker said that last year 20,000 pounds of tomatoes were used in the massive food fight where attendants were covered from head to toe.
"But L.J. is big on making this something that blows your mind," Walker said. "So this year we're going to have 80,000 pounds of tomatoes."
Mohamed said all of the tomatoes used in the fight are overripe and too acidic to be sold, so no consumable food is wasted.
The creators believe the excitement people have shown about the festival is because they have the opportunity to be a part of it.
"This is a festival where the event is around you," Mohamed said. "You are not a spectator anymore; you are the participant, and I think that's our big draw."
The festival has also captured the attention of the St. Thomas community. Last year, Walker estimated that more than 400 Tommies were in attendance, and he expects even more this year.
"I was really happy to see St. Thomas people come out and support young, St. Thomas entrepreneurs," Walker said. "St. Thomas kids love to have a good time, and (this year) we're trying to create that 'wow' factor."
Senior Stephen Eigenmann said that he had a great time last year and will definitely attend again this summer.
"I'm looking forward to utilizing better strategy," Eigenmann said. "I like to say 'make sauce, not war.'"
Walker said event attendees should come prepared to enjoy the summer day, listen to live music and get splattered from head to toe with overripe tomatoes.
"We're going to entertain you from 12 p.m. to 6 p.m.," Walker said. "Then you're about to experience the craziest one-hour tomato fight that you can possibly imagine."
Baihly Warfield can be reached at warf3860@stthomas.edu.