Music practice rooms in Brady Educational Center have seemed more crowded this semester, according to some music students.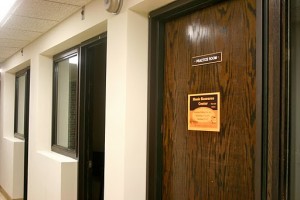 Freshman Rachel Siteman, a music business major, said it can be difficult to find a practice room during the day.
"I find myself waiting outside and standing here looking through the windows, trying to see who is in there and when they will be done," she said.
The music program is growing, music department director Matthew George said. He estimates that collectively there are about 50 to 60 more student participants.
"The number of people who auditioned for scholarship this year who accepted them and are here is significantly more than we've had in the past," George said. "We're probably talking about at least an additional 10 to 12 majors."
The music department's graduate musical education program is growing as well, George said. He attributes the growth to increasing popularity and "a concerted effort in recruitment."
Siteman came to St. Thomas because it had the program she wanted and it was "well-established." Siteman is a saxophone player in both the jazz and wind ensembles. She said she thinks BEC is not built for music.
"I mean this is a great building," she said, "but it lacks so much that an actual music building would need. Music is just an afterthought at this school, just the way the building was set up."
Doug Hennes, vice president of university relations, said the university's concern with BEC is also that it is not built for music.
George said students complain every year about the limited space.
"It's nothing new," he said. "We're hopeful things are getting seriously addressed in that front and that we'll get something that will happen sooner or later."
Siteman said she and other music majors have discussed "how we wish they could have something new. … We've been speculating for a while as to whether or not something will change."
Hennes said the current Opening Doors campaign at St. Thomas "does have a priority to establish a school for the arts."
With a $20 million price tag, the university could establish a facility for the music department on the Minneapolis campus, Hennes said. The problem is that the money is not there.
"The idea for the school of arts was pinned on a successful pitch on one donor, and it was not successful," Hennes said.
As of Dec. 1, only $2,095 has been raised. There is still time because the campaign does not end until 2012. But, Hennes said the idea is "dormant right now."
"If another donor stepped up, it would be another possibility," he said. "At this point, it has not advanced."
Hennes said "everyone is well aware of the issues." He said something new with BEC could be an option.
Siteman said a new facility would be "amazing. It's a fantastic idea."
Until that happens, the music department is trying to make the best of its facilities. Some modest improvements are being considered such as improving the "the visibility of the space," George said.
"We're looking at re-configuring our locker storage area so we can create more," George said. He said some sound-proofing can be re-done and classrooms can be overhauled. The BEC auditorium might be renovated in the summer so it's more "music-friendly," he added.
In January, cosmetic improvements such as carpeting and painting are possible, but the final decision has not been made yet, Hennes said.
"I'm hopeful a lot of these other things are going to take place," George said. But he does not know what will happen.
"So it's not ideal, but it's better than where we are right now," he said.
Hennes said the university is taking the music department's increased enrollment into account, and improving the music facilities remains a high priority.
"We know we need better facilities for music," Hennes said.
Theresa Malloy can be reached at mall5754@stthomas.edu.