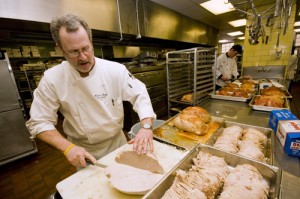 With the arrival of new Executive Chef Ken Grogg, the St. Thomas student dining room may see some changes to its menu soon.
"I really want to involve the student body in a lot of the new era for where cuisine will go for the school," Grogg said.
Grogg said he would like student opinions on the type of food they like and to cook to their needs and hopes to use more of a "formal evaluation" method. This means reaching out to students through Facebook or having them taste test the new cuisine.
He also has some big goals he would like to set for St. Thomas food service.
"I want the University of St. Thomas, as a whole, to be the hidden gem among university dining services," Grogg said.
Grogg is a seasoned veteran of the food industry. Grogg was born in Indiana and grew up in Bloomington, Ill. He came to Minnesota to go to a French culinary school. He has cooked at commercial restaurants, such as Bennigans, and at corporate places. He spent 12 years at the governor's mansion during the terms of Govs. Rudy Perpich, Arne H. Carlson and Jesse Ventura.
Most recently, Grogg was the manager of product development for Caribou Coffee and a caterer for private clients and companies such as United Health Group and American Express. Grogg said he came to St. Thomas because of the environment.
"The campus surrounding is just so much more rejuvenating than the corporate environment," Grogg said. "Here you've got the student body whose lives are in front of them, and in the corporate world, their lives are being sucked out of them through their computer screens."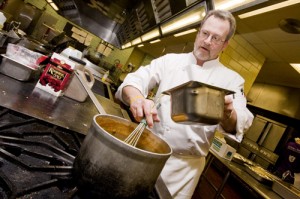 Grogg said he considered working for Concordia College in Moorhead, Minn., but St. Thomas stood out to him because of the new student center being built.
"That was a dream come true because the facilities are good," Grogg said. "It's always a great thing to walk into a sparkling kitchen where you can really set up things to operate it at maximum efficiency."
Todd Empanger, director of dining services, said Grogg stood out to him because of his experience.
"He had some very good experiences in what we were looking for, in large volume cooking operations, plus the culinary/catering side of it," Empanger said. "Plus he's been a pastry chef, and that's an area we need to expand at."
Empanger is most excited about having a new, upgraded change to what the university is trying to do. He said they plan on doing more display cooking with the new student center coming, which Grogg has a lot of experience in. Empanger is also excited that Grogg has been an instructor and his excitement to teach.
"We have students, and a lot more of our help is going to be reverting to student employees, you know, rather than full time [workers]," Empanger said.
Brian Woitte can be reached at bmwoitte@stthomas.edu.