St. Thomas Activities and Recreation is no longer the only organization on campus that books music artists and teaches its members to program musical events.
The Music and Entertainment Industry Student Association is a new club that was approved last November to teach music business students how to work with musical performers.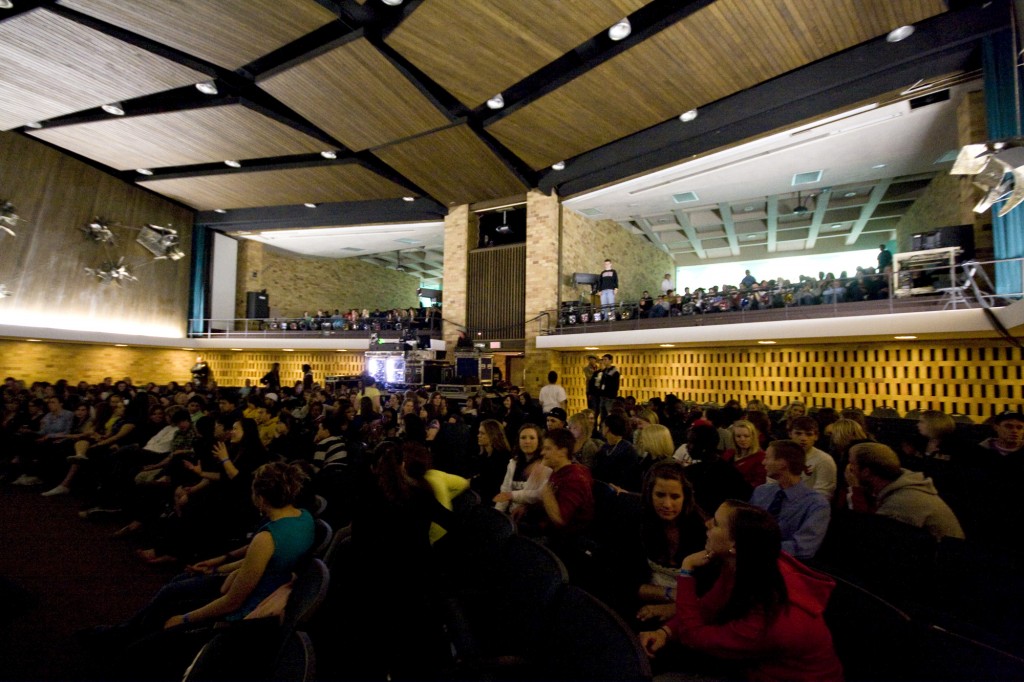 "Our goal is to bring music to campus and show student members how to do it," junior Michael Cyrs, MEISA president, said.
He said the group will help students learn band and venue management, production, stage and sound management production, marketing and advertising.
"Pretty much all the nuts and bolts that go into the entertainment industry," said sophomore Rob Rasmussen, who is in charge of public relations and advertising for MEISA. "MEISA will help try to build some experience, so when they get out of school, students will have their feet on the ground and [will be] comfortable working with professionals in the industry."
Christopher Kachian, guitar studies program adviser, said the new group branches off the Music and Entertainment Industry Educators Association, which helps students network locally and nationally with educators and music industry representatives. St. Thomas has been affiliated with MEIEA since 2009.
Rasmussen said the group takes a similar approach to STAR when working with musical performers but differs from STAR because MEISA brings in local artists and St. Thomas bands. STAR books concerts, comedians and other forms of entertainment on campus, which could cause conflict between the groups.
Matt Gustafson, STAR adviser and Campus Life associate director, said he wasn't aware of MEISA because there are 130 other clubs on campus, but he is not worried the club will affect what STAR does on campus.
STAR President Ashley Bailey agreed.
"I don't think it's a problem or competition," Bailey said. "We're all part of one community. We're all working to help the students of our community."
Junior Taylor Bakken, MEISA vice president, said she doesn't think there is any need for the two groups to compete.
"We can coexist most definitely in harmony once we get bigger and bring in bigger bands," Bakken said.
STAR receives about 60 percent of the student activity fee. The Undergraduate Student Government receives the remaining 40 percent of the activity fee and uses part of it to fund clubs such as MEISA.
Sophomore Brianna Rud, a music business major, said she thinks STAR needs competition.
"Everything is just STAR, STAR, STAR," Rud said. "Why not get other groups together that can stand on their own and be fun for campus?"
MEISA members said the two groups would not compete on campus and would rather work to improve show attendance.
Cyrs said one of the reasons he wanted to create MEISA was because the advertising for music programming on campus wasn't effective.
"Sometimes there are not a lot of people at shows, and I think that's kind of bad," Cyrs said. "I'd like to work with STAR to bring more people to shows."
He said STAR puts up a lot of posters for shows, but it can be overwhelming for students.
"We'd like to take it back a few steps," Cyrs said. "As soon as we know that something is going to happen, we can start getting people involved by telling people by word of mouth."
MEISA is working with KUST to spread the word that Cloud Cult, a local Indie band, will perform at St. Thomas in April.
Senior David Feily, a music major, said music programming should be left to one group on campus.
"I think it's kind of dumb that they would have to compete with each other," Feily said. "If St. Thomas is going to have a separate organization to do solely music functions, STAR should relinquish that to that group."
Rasmussen said MEISA would be fine with taking responsibility for music on campus.
"If STAR ever felt they were spread too thin, we'd be more than happy to take the music portion
off their hands," Rasmussen said. "I think any competition that would exist would be healthy and would ultimately be to the benefit of the students getting better shows."
Rasmussen added, "I don't think we're out to compete with them. I think we are in support of what they're doing and like what they do. We just want to do it a little differently."
Hannah Anderson can be reached at ande5385@stthomas.edu.