Some college students and their families dread this time of year for more reasons than just the weather, because filling out the Free Application for Federal Student Aid can be difficult.
However, recent changes to the FAFSA website, including a new design, make the process simpler, said Scott Meyer, assistant director of financial aid.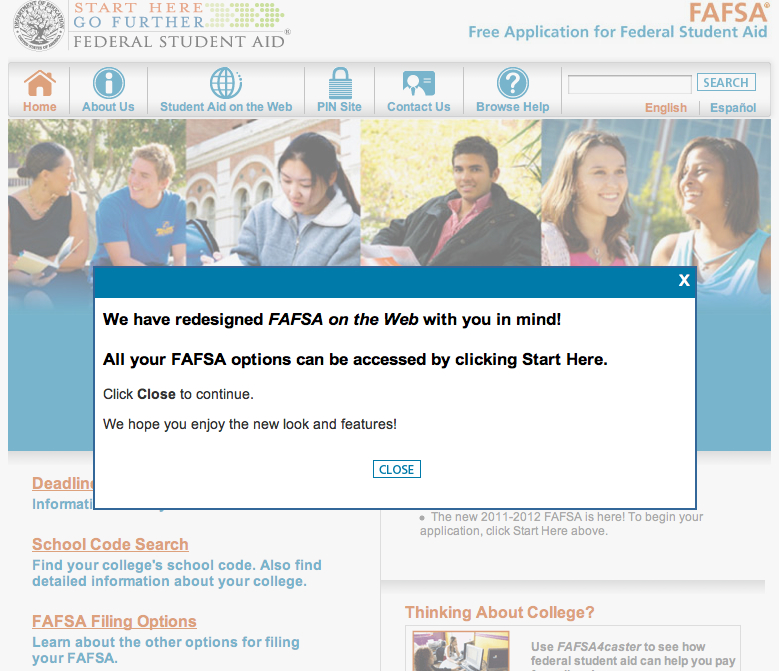 Meyer said the biggest change to the FAFSA website was more incorporation of "skip logic." With this change, the website will skip application questions that do not apply to a student based on answers to previous questions.
"In the past, you answered questions that really weren't necessarily relevant to you because they were there and there was no way to really skip over them," Meyer said. "This year the Department [of Education] really has tried to simplify things as much as possible."
Sophomore Danny Socun said he believes this change is good.
"There are a lot of things that are very repetitious and it's very long, and there's some tabs that don't apply to me at all where I basically just checked 'No' and I wondered why," Socun said. "I think that it's going to be good."
The website also has a more user-friendly design, Meyer said.
"They redesigned the homepage," Meyer said. "They've kind of simplified places so you can see where the deadlines are, or if you're not sure what the school code is."
The FAFSA website also has made it easier for students and families to get a paper application, although few St. Thomas students choose this option, Meyer said.
"In the past, there was a PDF application that they could complete, but you really had to search the website looking for it," Meyer said. "This year they've made the paper application a little bit more accessible."
Sophomore Jessica Wilson said the FAFSA website improvements could benefit students.
"I think it's great that they're changing it because it allows students, especially underprivileged students, to use it more efficiently and gives them a chance to get more money when they could get discouraged from the old view of the site," Wilson said.
Meyer said that the application could not get any easier.
"As aid administrators, we really don't know quite how much more simplified it could be," Meyer said. "It would get to the point where it would ask so little information that we as an institution might have to turn around and ask additional questions of the student, which would shift the burden from the FAFSA to the school."
Meyers said the priority deadline to submit the FAFSA for St. Thomas students is April 1.
Cynthia Johnson can be reached at john3175@stthomas.edu.