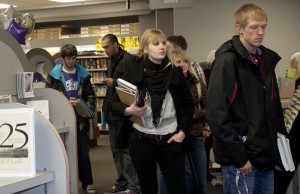 The bookstore faced the busiest day of the year Monday, said Bookstore Director Tony Erickson. The university registrar and service center both ran into similar situations. That's what happens on the first day of a new semester.
"At about 12, the store will be packed, and we'll have people waiting in line to get in the store," Erickson said. "We will have to close the store down for a while because of fire regulations. That usually happens three or four times the first day of the spring semester."
Freshman Sean Warner was in the bookstore Monday because it was the only time his schedule permitted buying books.
"It wasn't open yesterday, and I was in Mexico over J-Term," Warner said.
Service Center Director John Barron said that the center has been working overtime for the last ten days printing classroom materials.
"We have been very busy with calendar year-end documentation for a variety of departments on campus," Barron said. "So a lot of what we have been doing is not class related, but we have also been doing a lot of class related stuff too."
University Registrar Paul Simmons said that the registrar's office is normally busier during the first day but because technology has simplified the process, things have stayed relatively calm.
"We have gone from 20 years ago where we used to have gymnasium registration where everything was done by paper, in person…to web-based registration," Simmons said.
Freshman Nicole Scott said that she bought most of her books in the bookstore over the weekend, and it wasn't really busy. On Monday, Scott bought the last book on her list, knowing the line would probably be long.
Sophomore Mohamed Samaha bought his books Monday and thought it went well.
"It actually went pretty fast. Me and my roommates just waited until today for some reason…kind of procrastinating I guess," Mohammad said. "It went fine though, I got everything I needed."
Patrick Roche, Katherine Curtis, Olivia Cronin contributed to this story.