Unlike most of his college peers, Shawn Zobel was not in a position to take a spring break vacation.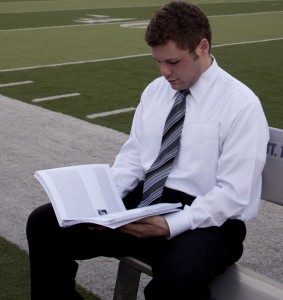 That's because the St. Thomas senior had his hands full at work. However, if you asked Zobel, watching football, analyzing players and finishing his annual NFL draft preview, is much more than just a job.
Zobel's recently released "2012 Draft Preview," a book he's released for the last six years, is the final addition to Zobel's resume. This year, the book contains more than 200,000 words of analysis on 255 players participating in the 2012 NFL draft, and it takes him nearly nine months to complete.
Though the process is arduous, Zobel hopes it will help land him his dream job in the NFL.
"My goal all along was to get my name out there and try to get a job in the NFL once I graduated," Zobel said. "I write that (Draft Preview) just to show them what I'm capable of doing. I'm a month and a half away from graduating, and it's kind of coming full circle now."
In 2004, Zobel, who has always been a football fan, attended his first NFL draft with his dad. While watching the lesser-known players get picked in the final rounds, a light bulb went off for Zobel, who realized just how much he knew about the game he loved.
"I remember sitting there next to my dad and I was like, 'I could tell you the same things that some of these guys on TV are telling you,'" Zobel said.
As a 17-year-old high school sophomore, Zobel said he had doubts about starting his own website, but with the help and encouragement from his dad, Zobel was confident enough to start draftheadquarters.com and enter a mock draft contest that predicted the results of the first round of the NFL draft.
"Depending on how accurate you are in being able to project the first round, that's how you get credibility. My first year… I placed eighth out of 95… so pretty good," Zobel said.
Since then, Zobel has become famous in the football community for his mock draft predictions. He now boasts on his website that he is more accurate than ESPN and experts like Todd McShay and Mel Kiper Jr.
"Growing up, I thought that everybody looked at football the same way I did, and I quickly found out that, that wasn't the case. It's hard to explain, you just have to have a natural eye for it," he said.
KARE-TV sports reporter Dave Schwartz said he has used Zobel as a source for numerous stories to talk about draft picks and has been impressed by his work ethic and understanding of the industry.
"His analysis is always spot on. He does an immense amount of work and research on these kids… he's got it down perfectly," Schwartz said.
Though Zobel may be known for his mock drafts, he said that starting Draft Headquarters and its initial success was exactly what he needed.
"When I was younger… I didn't really know what my future was I guess, and then I started this and everything clicked. For the first time in my life, things made sense," he said.
Things not only clicked for Zobel, but he noticed that his fan base was expanding as well.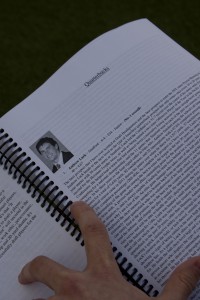 "The first year, if I got like 100 page views in a month, I'd be thrilled. Now I get… on good days, 5,000-6,000 in a day," Zobel said.
As the website traffic increased, so did Zobel's book sales. In his first year, he sold around nine copies, but this year he's sold nine copies in just the past two days.
Zobel started writing this year's preview at the end of January when he returned from what has become an annual trip to see players in person at the Senior Bowl. During February and March, Zobel said he continued to watch film and games, take notes and began to write individual player profiles.
By the time spring break arrived, Zobel had completed his analysis of more than 150 college football players, and he used the seven days out of school to write 100 more profiles.
"I did 10 players a day for 10 days… and each one takes like an hour. I don't remember much of spring break; it's just kind of like a blur," Zobel said.
Not only does Zobel include detailed information about each player's actual abilities on the field in his book, he also keeps track of personal information like criminal activity and grades that factor into a player's success.
"It's like putting pieces in a puzzle. There's 255 different puzzles in here, and you have to be able to put every puzzle together correctly. In order to do that, you have to start in June and finish in April," Zobel said.
Zobel's friend, senior Patrick Sullivan, said he is amazed at the time commitment Zobel makes each year to complete his book.
"It's kind of like breaking up with a girlfriend, you don't see him for like three or four months until the book is done," Sullivan said.
Sullivan, who has bought Zobel's Draft Preview for three years, said he has learned more about football from his friend than he ever wanted to know.
"He goes into so much detail it's kind of ridiculous," Sullivan said.
Zobel's future in football
This year, Zobel said he'll be watching the NFL draft from home, but the importance of the day remains the same.
"Every year I've said I'm more accurate than ESPN, so you want to beat ESPN again so you don't look like an idiot," Zobel said. "The first round I'm definitely nervous because I want to see things go well."
Zobel is in the last month of running Draft Headquarters and said he hopes he will receive a job offer from an NFL team in May.
Schwartz said he is confident that Zobel is on his way up in the football industry.
"I would be more surprised if someday he wasn't a GM in the NFL than I would be if he is," Schwartz said.
"It's been fun, but I'm ready to move on. I'm ready to start working for a team," Zobel said.
Heidi Enninga can be reached at enni5264@stthomas.edu.