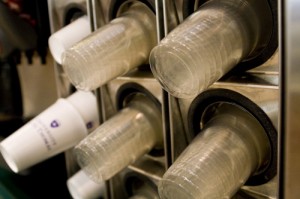 Decades worth of tradition are being tossed away by St. Thomas students this semester, and no one is doing a thing about it. In fact, St. Thomas actually approves of this historical overhaul.
Slowly but surely, the ever-present foam cups that have been a staple of St. Thomas eateries are becoming extinct in favor of a newer, more environmentally friendly model.
"We thought we'd join the club," Director of Food Services Todd Empanger said. "The university's mission is set up that way, so we're just trying to follow that mission as best we can."
The push toward being more eco-friendly means St. Thomas is going to let its supply of foam cups run out and replace them with new plastic cups, which are easier on the environment when broken down. The switch is gradual because St. Thomas buys cups in bundles of 50,000 and storage space is limited.
The new cups, which filtered in to all on-campus eating locations, including the Minneapolis campus, hit shelves late January.
"I never noticed it, I guess," sophomore Peter Bussa said. "I know they had [foam] before … it's saving money, I'm guessing?"
It's actually the opposite. While the price increase isn't monumental, the switch to plastic cups is costing the university "a few" more cents per cup, according to Empanger. He said he believes that is because it actually costs waste management facilities more to break down the multi-component plastic cups.
Despite their different appearance, the cups will be able to hold the same amount as their predecessors. But there will only be two sizes, instead of three, to choose from.
The change has been subtle and has gone mostly unnoticed, according to Empanger, but some students, such as junior Danny Kane, have recognized the switch and appreciate what St. Thomas is attempting.
"I think it is important," Kane said. "It's a positive step to implement cups that can be recycled instead of being thrown away as the old cups were."
Empanger said that the movement for new cups was more difficult than it seems. This was mostly because of all the facts and figures St. Thomas needed to take into account while listening to the pros and cons of prospective products.
"We get a lot of information," he said. "It's controversial. It goes back and forth between what's right and what's wrong [for St. Thomas]."
For example, the university looked into purchasing paper cups, but when those cups contained hot liquid, they got too hot for a person to hold. This meant the person would use another paper cup as a buffer, which added more waste.
Even with the new plastic model, hot liquids are a problem. If a person put hot coffee into one of the new cups, Empanger said that the cup would begin to weaken and melt.
While Empanger isn't sure what the future has in store for the often-overlooked cups, he does know that whether students notice the change, the foam cups are gone for good.
Ben Katzner can be reached at bekatzner@stthomas.edu.