Years of collaboration and teamwork have helped St. Thomas siblings Andrew and Angie Hasek make a formidable political duo and political history.
En route to graduation, senior Andrew Hasek left an opening for the highest state rank for a student in the Minnesota College Republicans. On Saturday, his younger sister junior Angie Hasek filled the slot and became the newest chair of the organization.
Angie is the first woman to serve as chair since 2009 and won the election handily, with 66 out of 72 votes. Her victory also makes Andrew and Angie the first sibling team to be consecutively elected in Minnesota College Republican history. Additionally, they are the first Tommies to be consecutively elected since 1992.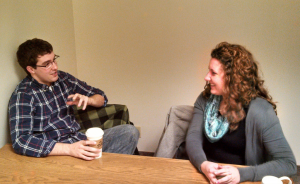 "I'm so happy it's over, and I can start doing things," Angie said. "But at the same time, it's a little bit overwhelming."
In 2012, Andrew served as chairman of the St. Thomas College Republicans with Angie as his vice-chairwoman. After he was elected state chair, Andrew appointed Angie executive director.
The Hasek's teamwork started in high school, first when the siblings worked at a restaurant together, and later when Angie succeeded her brother as student body president.
Describing the election as nerve-wracking but exciting, Angie said she was confident that she would win the election and hopes to carry on the Hasek legacy.
"I'm more excited for the challenge," Angie said. "I know it will be a lot of work, but I know it will be worth it in the end. We're going to start by making sure everyone knows their roles and start setting goals for the next year."
Andrew said he is excited to see what Angie's future with the Minnesota College Republicans holds.
"She's by far the most competent person in the organization to take it to the next level," Andrew said. "I think actually she's more qualified for the position than I was."
An important aspect of Angie's victory is her political role as a woman.
"Having women in leadership roles in Republican politics is a great thing for the party because of all the rumors that the Republican party is the war on women and things like that," Angie said. "With women in charge, you can show that that's not the case."
As chairwoman, Angie said she hopes to help win state positions for Republicans, as well as make strides on campus.
"I think our generation is getting frustrated, and I would love to rebrand the Republican Party on campus," Angie said. "In the past we've been viewed as the anti-Democrat Party. We want to be the party of opportunities and the party of growth and prosperity."
Angie said she hopes to do this by focusing on issues such as the economy, debt, education and the cost of health care.
Junior Peter Moe, Secretary of the St. Thomas chapter and Minnesota College Republicans Treasurer, said that the Haseks are going to lead the College Republicans to make an impact in the 2014 election cycle.
"They're hardworking, honest and very passionate about politics," Moe said. "They're great people. I think that College Republicans throughout Minnesota recognize the work that both Andrew and Angie have done in their respective roles both here at St. Thomas and at the statewide level, and they respect that."
While there are advantages to having a sibling team in politics, there are also challenges.
Even though sibling rivalries can be found in nearly any family, Chris Tiedeman, the Republican National Convention Committeeman from Minnesota, said that isn't an issue with these two.
"I haven't seen that with this pair," Tiedeman said. "They're really in it for the cause. I think that's a testament to their leadership."
According to the Haseks, one of the hardest things about working together is balancing professional and personal relationships with each other.
"Sometimes it's tough going home, because you just want to go home and unplug from politics, but we always end up talking about it," Angie said.
Andrew agreed and said that since Angie is his sister, he holds her to a different standard, which she continually meets and exceeds.
"It's been really fun. I can always count on him for anything," Angie said. "At the same time it's kind of challenging too because working with a sibling in a professional environment can be kind of tough. Sometimes you want to make things personal, but you can't because it's not a personal issue; it's professional."
"It's a dynamic you never really see in politics," Andrew said. "You have your big political families, but she was elected. She was never really handed anything. It's just really neat that we were able to go out and do so much this past year and then to have voters on Saturday reaffirm that we were doing a good job. That means a lot."
Another challenge the Haseks have dealt with is implications of nepotism.
"There were some snide comments made last year, not so much by students but by people who were not involved in politics. They were like, 'It's nepotism!' but no, we're very concentrated on merit," Angie said.
Moe said the Haseks are succeeding based on their accomplishments.
"It's not really an issue if they can do the job," Moe said. "Their track record speaks for itself. Some people may have initially had some qualms about it, but the fact that they've done such a great job this year working together … I think that it's erased any concern."
"Having a sibling pair like this that can help foster that energy is really cool," Tiedeman said. "They play off each other's strengths and operate wonderfully together."
Andrew is currently the field director for Congressman Erik Paulsen and is considering a future in politics. After graduating with a degree in business, Angie said she is looking forward to pursuing a different path for a while, possibly returning to politics.
"It's just a testament to St. Thomas as a cultural projection, how strong our chapter is and even just the St. Thomas student population," Moe said. "Both of them have very high ceilings, politically. It will be very exciting to see what they do afterwards."
Simeon Lancaster can be reached at lanc4637@stthomas.edu.