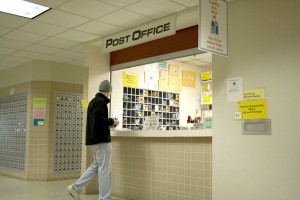 Sunday may no longer be the only day to skip the walk to your mailbox.
With the number of handled items dropping and financial losses rising, the U.S. Postal Service is pushing Congress to allow it to cut Saturday deliveries. The post office is looking to use the cut along with an increase in rates to battle an expected $7 billion loss this year.
While the new delivery model would put an end to Saturday home deliveries, post offices themselves would not close on the first day of the weekend. But Jim Waska, shipping and receiving coordinator of campus mail services, said would not be the case for St. Thomas' shipping and receiving department.
Waska said if the new model were put in place, shipping and receiving would cut its Saturday hours, which currently run from 9:30 a.m. to noon. That would mean student workers who worked the shift would lose those hours.
Station clerk Sarah Hall of the on-campus post office said she is not sure how the change would affect on-campus mail, because the St. Thomas post office is already closed Saturdays.
Currently, mail delivered to the school Saturday is held until Monday morning, when it is then available for students to pick up. Hall did not know whether the new model would cut deliveries to colleges.
Freshman Amanda Ogbuehi said she knows plenty of people who use campus mail services on Saturdays.
"It might not be a very good idea," she said about Saturday hours being cut.
To help fight financial losses, other options could be to raise stamp prices, close down local post offices or open more post offices in convenience and grocery stores. Investigations into possible courses of action are ongoing.
Jordan Osterman can be reached at jrosterman@stthomas.edu.