Proposed changes in financial aid funding would reduce the amount of money St. Thomas undergraduate and graduate students receive from federal and state grants.
President Barack Obama's proposed budget would eliminate summer Pell grants, and a proposal by the Minnesota House of Representatives would reduce the maximum Pell grant amount by 15 percent, according to Kris Roach, director of admissions and financial aid.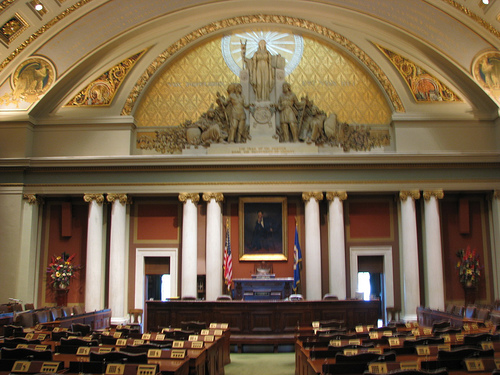 "For our students, summer Pell grants are not nearly as critical as academic year Pell grants," Roach said.
Roach said 1,386 St. Thomas students currently receive Pell grants, and 400 of those students receive the current maximum Pell grant of $5,500. Pell grants are need-based federal grants that don't have to be repaid.
"Currently, St. Thomas students who receive Pell grants receive on average $3,755 in Pell Grant funds," Roach said. "A 15-percent reduction would reduce the St. Thomas student average to about $3,191 (if applied evenly)."
Senior Jamie Kass, a Pell grant recipient, said she doesn't think Pell grant funding should be reduced.
"There are a lot of people who are cutting it close with their finances to get an education," Kass said. "They need every opportunity they can get to make it through."
Roach said the Obama administration is also proposing raising the interest rate on federal Perkins loans. She said 281 students received Perkins loans during the 2010-2011 school year and that the increased interest rate would make it harder for the students when they had to start repaying the loans after graduation.
"I am obviously very concerned. I'm concerned for our students and for all students," Roach said. "Cost is a real factor for students, and any time we impact financial aid negatively there is danger for students."
She said another financial area that could be affected by the new proposals is Minnesota state grants.
"Because the state is in budget turmoil, exactly what will happen to the Minnesota state grant fund is also unknown at this time," she said.
She said the House is also proposing the elimination of the Supplemental Educational Opportunity Grant.
"The elimination of the SEOG program would impact approximately 400 currently enrolled undergraduates," Roach said. "So the elimination of this program would be difficult for those students."
She said it is still too early to know if the proposed plans will go through, because politics are at play.
"I think there is a long way to go before this gets resolved and we know what we're dealing with in terms of real dollars," Roach said.
Graduate students would also be affected
Roach said the Obama administration is proposing eliminating the interest subsidy on federal direct loans for graduate and professional students. She said this change would mean graduate students would be responsible for the interest on the loans right from the start.
"Cutting subsidies on grad loans will certainly have a negative impact on our students because for our grad students, borrowing is one of the primary ways they pay for their education," Roach said.
St. Thomas law student Ryan Damhof said the loans will make it more difficult to pay for law school.
"This is not going to be a deal breaker," Damhof said. "But it will definitely add to the headache."
Law student T.J. Scott agreed.
"I don't think that the best students necessarily can always afford to front school themselves, so it would diminish the quality of people coming out of the programs," Scott said.
Students talk with legislators
More than 150 college students from the College of St. Scholastica, Augsburg College and Concordia University visited the Minnesota capitol Wednesday to talk with legislators about their support for the state grant program, according to Minnesota Public Radio.
Roach added that the president of the Minnesota Private College Council co-authored a letter with higher education leaders, and the letter has been sent to Minnesota legislators in Washington, D.C.
Students at St. Thomas should also be speaking up about the importance of maintaining federal financial aid, Roach said.
"Students who need federal and/or state financial aid should write to their legislators, or better yet visit them and let them know how important financial aid is to their future," she said.
Jacqueline Destache, Maggie Clemensen and Alex Keil contributed to this story.
Katie Broadwell can be reached at klbroadwell@stthomas.edu.