As registration periods near, some St. Thomas students will no longer be able to transfer more than eight credits from other schools and universities to put toward core requirements.
The new eight-credit policy—or post-matriculation credit limit—will apply to students who enrolled at St. Thomas beginning in fall 2013. Students who entered before that time will not be affected.
Associate Vice President for Undergraduate Studies Michael C. Jordan said until last fall, there was no regulation on credits that could be applied to core requirements. Students could apply as many credits as they wished from other institutions to core area requirements.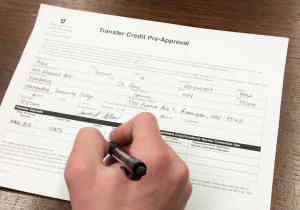 "The idea is that once students have committed themselves to pursuing a degree at St. Thomas, fulfilling the core requirements to an extent that we think fulfills the integrity of the core is deemed to be important," Jordan said.
However, the policy does not apply to ACTC students, students studying abroad or students transferring in with credits.
The price of classes at other institutions can be appealing to St. Thomas students. Currently, St. Thomas undergraduate students pay $1,079 per credit, and students who attend Century College pay $178.68 per credit. Students are allowed no more than four transfer credits applied to any one core requirement area.
Sophomore Danielle Swanson has transferred eight credits since enrolling at St. Thomas and said tuition is "so expensive already."
"If you can take classes elsewhere for $1,000 compared to $4,000, it just all adds up in the end," Swanson said. "You're already paying so much for the classes here. You think that they would be OK with you trying to save some money."
Jordan said there is a difference in the difficulty and focus of classes at some other schools.
"The idea is that it is important to uphold the integrity of the core curriculum," Jordan said. "The core courses at St. Thomas are designed to meet very specific criteria that are developed and approved by the faculty as a whole. Transfer courses in core requirement areas always represent an approximation to the St. Thomas requirement."
Senior Andrew Alexander said he noticed students at the local community college where he transferred credits from were less motivated.
"A lot of people there didn't take it as serious as a lot of people at St. Thomas would," Alexander said. "But then there was obviously a handful of people that took it just as seriously as any other class."
Junior Luke Marks said he thinks the university is encouraging students to get the St. Thomas experience.
"They want people to obviously (take St. Thomas) classes because they are getting a degree from here," Marks said.
Marks said he thinks the university should modify the policy to allow four courses to be taken outside the university.
"I think it would make more sense to allow two more classes outside of St. Thomas because it's an expensive school," Marks said. "Even related to other schools, it's expensive."
Jordan Kruger can be reached at krug6172@stthomas.edu.