A scholar in England believes God had a wife, but St. Thomas students are skeptical.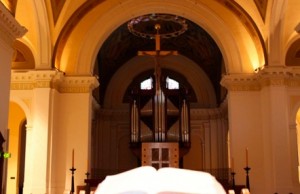 Francesca Stavrakopoulou, an atheist biblical scholar at the University of Exeter in England, referred back to the ancient Israelites, saying they worshipped a goddess, named Asherah, alongside Yahweh. Because Christianity has its origins in the ancient Israelites, this could mean that today's monotheistic Christianity, meaning Christians worship only one God, strayed from its origins.
Junior Laura Carlson doesn't agree with Stavrakopoulou.
"I think that is the strangest thing I have heard this whole year," Carlson said.
The Rev. Erich Rutten, director of Campus Ministry, said he might understand where Stavrakopoulou is coming from.
"The groups around ancient Israel had kind of a couple as their main god and goddess … a married couple," said Rutten.
He said the idea of one god came with time.
"I do think there was a development from an idea of Yahweh [as] the king god," Rutten said. "He was the most powerful, but there were other gods, but then that grew over time to say, 'No, there is just one god, there's only one: Yahweh.'"
Sophomore Caitlin Heaney said she doesn't agree with Stavrakopoulou's findings because she said she believes "God is the epitome of love" and "doesn't need a wife."
Rutten agreed with Heaney.
"You've heard the phrase 'God is love'. That's not just a warm fuzzy saying about OK, God has that quality among other qualities. It really is a saying about what is the nature of God," Rutten said. "God is this interplay of relationships, this interplay of love: Father, Son and Holy Spirit."
There is, however, a spousal relationship in the church.
"The spousal relationship gets played out between this monotheistic God and the community, Israel, so that, 'I will be your God and you will be my people,' that's the spousal relationship," Rutten said.
Lizzy Schmitt can be reached at schm9587@stthomas.edu.