Editor's Note: Throughout the week, TommieMedia will be featuring stories on the upcoming Tommie-Johnnie game.  Make sure to check out the Tommie-Johnnie coverage page for daily updates.
Wearing an inappropriate T-shirt to Saturday's game against St. John's could get you kicked out of the stadium. Producing and selling the T-shirts could put a black mark on your disciplinary record.
Such actions are part of a plan by administrators at St. Thomas, St. Ben's and St. John's to eliminate offensive T-shirts from the Tommie-Johnnie rivalry. The administrators also hope to promote good sportsmanship.
"We're all in agreement that we don't want students going into the game, wearing shirts that are offensive," said Karen Lange, St. Thomas dean of students. "We really don't want the students to wear them."
Disciplinary action for involved individuals
In addition to pairing with St. John's to ban the shirts from the game, St. Thomas threatened disciplinary action for selling inappropriate T-shirts. According to the St. Thomas Student Handbook, "Students are subject to disciplinary sanctions for conduct which occurs on or off campus when that conduct is detrimental or disruptive to the purposes and/or goals of the university."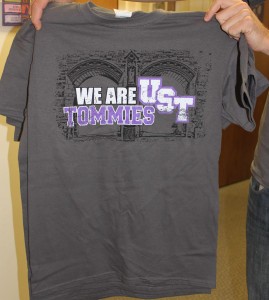 Selling inappropriate T-shirts could be documented on a student's disciplinary records, which are often sought by employers after the student graduates, Lange said.
"We get asked all the time from med schools and law schools [to see the records]," she said.
Disciplinary records are kept for seven years after graduation. Alumni have to grant permission to release the records. But Lange said there could be serious consequences for what is recorded while studying as an undergraduate.
"There are bigger ramifications beyond your time at St. Thomas," Lange said.
First year of official complaints before game
In previous years, St. Thomas administrators heard about offensive T-shirts after the Tommie-Johnnie games.
This year, Lange said they received complaints from students and parents before the game, prompting the administration to talk to the students involved in T-shirt sales.
"We're not out there looking for it," she said. "If we get a complaint, we take action. And this year, we did. We got complaints from students and we got complaints from parents."
The football games are supposed to be a family-friendly event, Lange said, and the T-shirts affect that overall tone.
"[People] bring their children to the games," she said. "It's really hard to have a family atmosphere when people are wearing shirts like that. It's just not appropriate for children."
T-shirts are offensive to "the human dignity" and women
The offensiveness of the T-shirts has been discussed around the St. Thomas campus, including at 11 a.m. Mass Sunday and at the annual "Can I Kiss You?" event.
"Some of these T-shirts are offensive to the human dignity," Lange said. "They're offensive to women. They go after gender and sexual orientation."
And while Tommie-Johnnie T-shirts have been around for a while, Lange said they are getting progressively worse.
"The last couple years, they have really crossed the line," she said. "It's a poor reflection on St. Thomas for the students to wear those shirts."
One shirt for sale this year compares women from St. Ben's to roller coasters.
"We have the biggest issue towards the Bennies," said Kevin Abbas, a student senator at St. John's.  "They're not involved in the game. They're just an easy target."
Appropriate vs. inappropriate
Appropriate, student-created T-shirts aren't banned from the game, but Lange said they need to be clean.
"I think if students make clever T-shirts that are appropriate, that's fine," she said. "But it's the inappropriate and offensive ones that we don't think students should be selling or wearing."
Also, students aren't allowed to use St. Thomas property in any way to promote selling or buying of the T-shirts. This includes using St. Thomas e-mail addresses.
"Each situation is individual," said Rachel Harris, St. Thomas interim associate dean of students. "It depends on the particular complaint, the particular T-shirt, the particular situation. … But they can't use any St. Thomas property."
Students band together at St. John's and St. Ben's
More than 500 students signed a petition against any inappropriate T-shirt at St. John's and St. Ben's.
"We're really hoping to get the awareness out there," Abbas said. "If you don't agree with the T-shirts, there are other people who also don't agree with them."
And St. John's and St. Ben's students responded positively, Abbas said.
"The reaction overall was very understanding," he said. "There was a lot of willingness to sign, especially on the Bennie side, because they've been the target of a lot of the T-shirts, even though they don't have anything to do with the game."
Along with collecting signatures, an eight-person task force organized by the St. John's and St. Ben's student senate also created a poster campaign to promote good sportsmanship at the Tommie-Johnnie game. The posters feature campus leaders and are hung throughout both campuses.
The group also will be handing out "homer hankies" to anyone wearing a St. John's-sponsored T-shirt to the game.
"Wear a good T-shirt, get a hankie," Abbas said. "We are encouraging positive sportsmanship. There will be a a lot of alumni and a lot of little kids at the game. They don't need to be seeing T-shirts like that. It gives all of our schools a bad name."
At St. Thomas, the Undergraduate Student Government decided not to hand out T-shirts for this year's game.
Mary Kenkel can be reached at mlkenkel@stthomas.edu.