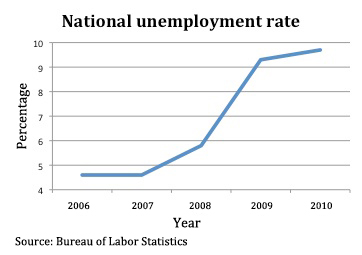 St. Thomas' soon-to-be May graduates are entering the job market at a tough time.
In February, the U.S. jobless rate held steady at 9.7 percent and 36,000 positions were cut around the country. Those numbers are lower than expected, signaling that the job market may be healing slowly, but St. Thomas seniors have noticed that this job market is nothing like when most of them graduated from high school.
In 2006 the unemployment rate was 4.6 percent. "Persons are classified as unemployed if they do not have a job, have actively looked for work in the prior 4 weeks, and are currently available for work," according to the Bureau of Labor Statistics.
"College graduates always do better in a recession than the rest of the population," said Diane Crist, director of the Career Development Center. "Students who started college four years ago were in a much different world than they are right now."
Although the job market looks bleak, many St. Thomas students remain positive.
Senior Dan Fettig said he has applied to at least 15 jobs in St. Paul and about 10 others out of state. He has used several resources to look for jobs but hasn't had any luck so far.
"I am optimistic, even in today's job market," Fettig said in an e-mail. "It doesn't do any good to complain about it. It is what it is, and you have to roll with it. I think that things have a way of falling into place. So all in all, I feel good about it."
Despite the lack of jobs, Crist said the outlook is a little better than it was last year. She has seen students get interviews and has noticed an increase in internship positions.
"We're thinking maybe employers are hiring interns where they really need staffing and they're a little bit afraid to hire for full-time, so taking on more interns and hopefully that will turn into full-time jobs," she said.
Some business students having luck, but not all

According to the New York Times, banks are climbing out of the recession, meaning more business students across the country are finding banking jobs and internships.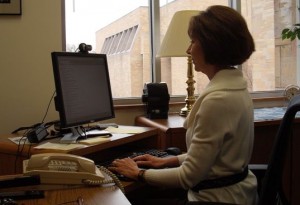 Senior Bill Bergmann, a marketing management major, has applied for many jobs and has been making the rounds doing "coffee conversations" and informational interviews to try and network.
Just this semester, Bergmann has applied for about 20 to 22 jobs, which he said is a little bit more than the average person.
"I have to say I almost put more time into that now than school," he said, "which is bad, but [I'm still on the dean's list]."
Bergmann has used several resources to apply for jobs. He has used the Career Development Center Web site, Experience.com, UW-Eau Claire's career page, City Job Search for seven cities, CareerBuilder.com and Monster.com, along with Craigslist and LinkedIn.
"I know a lot of people who haven't talked to a single person quite yet, and they're graduating in two months," Bergmann said.
He has had four interviews for jobs that were open and about 10 informational meetings, which he calls "professional socializing." Bergmann hopes to create relationships to gain an aspect of what people in his field are doing.
"If you ask the right questions, it might lead you to something," he said.
Education student considers less traditional positions
Still other students are choosing to go abroad and use their skills to help others. Senior Maya Brandl, an education major, would like to teach abroad someday. She said after graduation is the perfect time because she won't have any other commitments after student-teaching.
"I'm kind of debating between becoming a long-term sub or just taking that semester off and traveling," Brandl said. "I'm debating the idea of teaching abroad possibly in Africa or maybe Asia. So, I figured, now's the time to do it."
Brandl said she wanted to teach abroad even before the recession, but with budget cuts in a lot of public schools, it's another reason to teach abroad right after graduation.
She also said social studies is a common focus for Education majors and resulting in a lack of job openings in that area. Brandl said this will also make it difficult for her to get a job when she's done student teaching because social studies is her focus.
"Even if I get hired on first year, it's usually only like a one-year contract, so with the budget cuts I'll be the first to go just because I'm the newest person," she said. "And it doesn't really have anything to do with like who I am or whatever. It's just kind of how it is."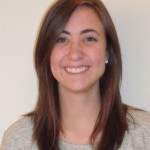 Science student looks at graduate programs
Senior Brittney Tegels, a biochemistry major, already has a job as a technical aid at a lab for 3M. She hopes to finish up her hours there in the year after graduating and then participate in AmeriCorps before going to graduate school.
Her technical aid position didn't come easy though. Tegels said she applied for about 20 to 25 positions before she got an interview with 3M.
"It's kind of depressing," Tegels said of graduating into the current job market. "I just think other people's opinions and their negative attitudes towards the economy kind of affects what you think about it as well."
Looking for a full-time job isn't on Tegels' mind right now because she wants to serve and then go to graduate school for public health. She isn't too worried because it's a little easier to get jobs in her field "because there's so much you can do with it," she said.
Hope the for future
Currently the Career Development Center is conducting its graduate follow-up survey, asking last year's graduates what they are doing now. Crist said the information should be ready at the end of March or in early April.
"We are seeing students get interviews and we think that students are going to be doing well if they can get internships or part-time jobs or just break in any way that is possible for them," she said.
Crist encourages students to stay active in their job search and talk to a career counselor if they are having trouble.
"Get your resume checked and for heaven's sake don't give up," she said.
Stephani Bloomquist can be reached at slbloomquist@stthomas.edu.