The Snapchat application, the newest craze in smartphone mobile applications in the nation and on campus, reached the No. 3 spot in the free app section of Apple's App Store behind the Dental Surgery and YouTube apps.
Snapchat allows users to take photos, caption and draw on them, and send them to their friends. But this isn't your usual photo sharing app. The app automatically deletes the photo you sent in 10 seconds or less after it's viewed.
Betsy Anderson, assistant professor of communication and journalism, said the draw for St. Thomas students is the humor.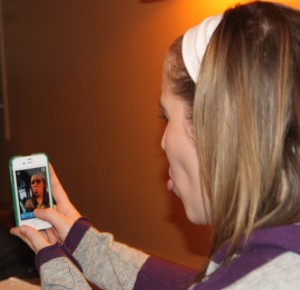 "(Snapchat) is being used for funny pictures that may not capture you at your best," Anderson said. "Any instance where you want to have a photo sent but then disappear would be an occasion where a St. Thomas student might want to use it."
Sophomore Shannon Heitkamp said she sends at least three Snapchat photos a day to keep in touch with her roommates on campus.
"It's a fun way to send pictures to your friends that only last for a couple seconds," Heitkamp said.
However, senior Andrew Falck said even though he downloaded Snapchat, he hasn't joined this app's fan club.
"I just got it because all my friends were getting it," Falck said. "It's just people's faces and I think it's kind of stupid."
With its rapid rise in popularity, users are noticing some glitches. Apple rated Snapchat as an application suited for people 12 and older because of "Infrequent/Mild Sexual Content or Nudity." Theoretically, this application allows for no consequences for sending inappropriate photos because they cannot be saved.
Senior Hallie Lundell, who uses Snapchat, has done research on this application for her social media class with Anderson.
"It was called the sexting app when it first came out," Lundell said. "A parent can't look at who you're sending something to or what you're sending; you can't look at it over on the phone bill."
Users might have a false sense of security because screen shots can still be taken of the photo once it appears on the screen. Snapchat has attempted to combat this by displaying a warning in the sender's app when a screenshot occurs. However, the photo can still be captured by an outside device without notifying the sender of the screenshot.
Anderson said she thinks this application will be a blip on the map of mobile apps.
"I personally think people want to hang onto their moments, so I don't see this particular app lasting," Anderson said.
Even with the glitches, Lundell said she thinks that this app is unique enough to last.
"The best moments you have with your friends are meant to be had but not saved," Lundell said.
Laura Landvik can be reached at land7854@stthomas.edu.