About 100 people attended a prayer service Saturday at St. Thomas' Florence Chapel to remember sophomore Michael "Carson" Larson, who died in a house fire early Saturday at 1795 Selby Ave., which is next to the Blue Door Pub.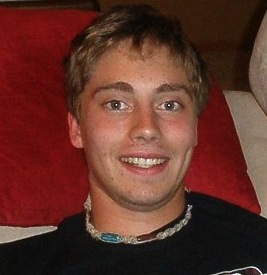 The 20-year-old student from Woodbury was asleep on the couch when the fire started on the front porch, according to a press release from Steve Zaccard, St. Paul fire marshal. Larson was dead when firefighters arrived at the house, Zaccard said.
Three other people were in the house during the fire, but they jumped out a second-story window to escape, sustaining minor injuries.
Junior Cameron Cochran, one of Larson's roommates, said he woke to Larson yelling about the fire.
"He started screaming super loud to wake everyone up," Cochran said. "People should remember him as a hero. He saved all of us."
Cochran told people at the service that "because of him, I'm here today."
Larson's father, Tom Larson, said he woke up to look at the snowstorm early Saturday morning at about 3:30 a.m., about the time the fire occurred. He watched an early-morning news broadcast reporting a fire in the 1700 block of Selby Avenue, he said, but he did not want to believe it was his son's house.
He said he went outside to shovel his driveway at about 5:15 a.m. when four police cars approached his house.
"I hoped it was for the neighbors," he said. "But when they rolled up, I knew it was bad news."
Remembering Larson
Tom Larson said his son had big plans for the future. Larson was a communication and journalism major and wanted to be a sports reporter, Tom Larson said.
"It's very sad. He had a lot of big plans and big ideas," he said. "I tried not to pop his balloon."
Tom Larson said his son loved St. Thomas. Tom Larson and other family members arrived at the service late, and they seemed surprised at the number of people who showed up.
"I mean, I get to see what he [Michael Larson] was talking about," Tom Larson said, motioning toward the people who packed the small chapel.
Friends shared stories throughout the service about their memories of Larson at St. Thomas. Most people knew him as "Carson," a nickname Larson gave himself because he thought there were too many people named "Michael" at St. Thomas, friends said.
A group of women said they didn't know his real name was Michael. "He was just Carson," one said.
Sophomore Bernie Kolar, Larson's friend, said he was a video game fanatic.
"His favorite video game was 'BioShock,'" Kolar told people at the service. "It didn't even matter if he had a chair. He would just sit on the floor and play for hours."
Sophomore Anthony Engelmann said Larson was a huge Minnesota sports fan. Engelmann brought Larson to his first-ever game at Target Field to watch the Minnesota Twins, he said.
"His eyes just lit up when we walked in," Engelmann said. "His eyes were huge."
Others spoke about how Larson was kind, friendly and considerate.
"He always had a smile on his face no matter what we were doing," said Matt La Course, who lived in Murray Hall with Larson last year. "One of the best friends I've ever had in my entire life."
Kolar agreed.
"[He was] the most accepting person I've ever met in my life," Kolar said.
"We don't always understand"
The Rev. Erich Rutten's message at the service was "how precious each and every life is, how loved we really are."
"We don't always understand why this happens, but God is not far away," said Rutten, who is the director of campus ministry.
Rutten said another prayer service might be arranged later this week.
Campus Ministry and Counseling and Psychological Services are available for student support, Rutten said.
"Sometimes it just helps to talk about it," he said.
Larson's friends are still in shock about his death.
"I cannot name one bad thing about him," Cochran said. "Sometimes life just doesn't make sense."
Larson's friend sophomore Javier Casillias said a friend called him to tell him the news.
"It's still not hit me," Casillias said. "We had to go drive past the house, even then. I saw the house, and sure enough. Carson's dead."
Theresa Malloy and Miles Trump contributed to this report.