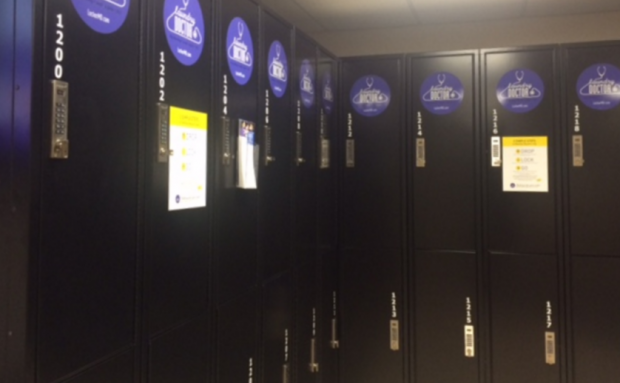 The University of St. Thomas has announced a partnership with the St. Paul-based company Laundry Doctor in a new effort to offer drop-and-go professional laundry and dry cleaning services to students, faculty and staff.
A customer can put a bag of dirty clothes in designated lockers around campus, enter the locker's number into an app and return 48 hours later to pick up clean, folded clothes – a service that parents and faculty requested.
"We've had parents who've said, 'Well, my son or daughter has never learned how to do laundry,'" said Bryan Helminiak, Residence Life associate director. "'What do we do? Is there any service you have or can provide that people will do their laundry for them?'"
After a series of laundry companies presented their prices and services to St. Thomas, the university decided Laundry Doctor had the best product and most cost-effective service, according to Helminiak.
He does not think this partnership between St. Thomas and a private company is anything out of the ordinary, comparing it to STAR's relationship with businesses that make T-shirts the club often distributes.
"If you think of what we use for preferred vendors for making T-shirts and sweatshirts, the university doesn't have the means to do it on their own, but they want to provide a service for whoever may [want them]," Helminiak said.
Special Laundry Doctor lockers are stationed outside Brady Hall and the Binz. St. Thomas and Helminiak said the university hopes to extend operations to the Minneapolis campus in the near future.
Bonnie Hanson, the vice president of marketing and client relations at Laundry Doctor, said St. Thomas wanted to find a way for its students to spend more time studying and less time waiting for the washing machine to finish its cycle. Doing laundry on campus can be stressful and time-consuming, she added.
"It's really enabling students to do the things that they need to be doing and want to be doing," Hanson said. "They're paying for an education. And this frees them up to reap the benefits of their education."
Parents can see less dirty laundry go home on weekends while ensuring their children still have clean, presentable clothes to wear to important job and internship interviews, Helminiak said.
From the perspective of a faculty member, Helminiak said the dry cleaning services Laundry Doctor provides are easily accessible and competitive in price to any other dry cleaner's.
St. Thomas is one of the first schools in the country to have this kind of app-based laundry service, according to Hanson.
"There are maybe two or three other (companies) that are leveraging the technology," Hanson said. "It's a small group."
The trend of ordering services on an app is a growing industry, from calling a car on Uber to ordering food on Seamless. Laundry Doctor believes it is at the forefront of an on-campus laundry revolution, but first it needs the St. Thomas community to hop on board.
Helminiak said because the service has only been available to students for a short time, he does not know how many students have signed up so far and doesn't know what to expect for this semester. He thinks, however, fall 2016 will see an uptick in memberships when parents of new freshmen discover the program.
To sign up for Laundry Doctor services, students, faculty and staff may go to LockerMD.com. This semester's membership fee has been waived, and one 21-pound bag of laundry per week works out to about $75 per month.
Sophie Carson can be reached at sophia.carson@stthomas.edu.