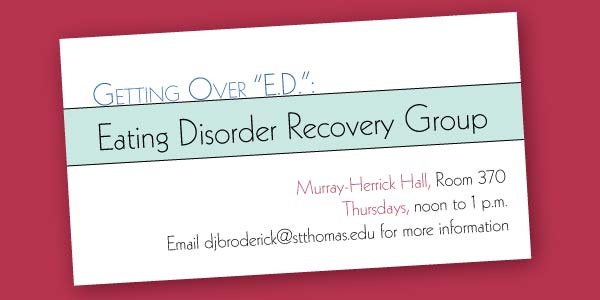 The University of St. Thomas Counseling and Psychological Services has given its "Body Image Group" a new, more specific focus to give students recovering from eating disorders a place to talk and receive support.
The new group, open to all ACTC students, is called the "Getting Over 'E.D.' Eating Disorder Recovery Group." It is not required for students to complete an eating disorder treatment program prior to joining the group, and it is open to anyone who is aware of a current or previous unhealthy relationship with food, eating or body image.
St. Thomas psychologist Deb Broderick said that the group encourages students to commit to a semester because membership is limited, and they rely on one another.
"We are asking people to sign up to meet with one of the counselors for an intake screening to see if the group would meet their needs, and if what they're looking for would be part of what the group is offering," Broderick said.
Senior Molly Mamaril said she had not heard of the group but thought it would be beneficial.
"I guess having a more focused group would allow for people to relate to each other more easily," Mamaril said.
Broderick explained that eating disorders are very rarely caused by one single thing but often "multi-factorial" reasons.
"There's certainly a social pressure that's perpetrated by the media," Broderick said. "But there's also other reasons. Family dynamics might enter into that, personality might enter into that."
Broderick also said that while it is predominantly women that suffer from eating disorders, men struggle too.
"In our counseling center we've seen an increase in male students presenting issues around eating," Broderick said.
In the past the group was only open to women, but now both genders are welcome.
"It would be interesting to see how that might affect the group," Broderick said. "And how men might feel being around mostly females."
Senior Alex Jones said he wasn't convinced that men would be comfortable in an eating disorder group on campus.
"I think they'd rather go to a personal doctor," he said. "Just keep it private."
Junior Dan Kambeitz agreed.
"Guys are kind of reserved," Kambeitz said. "They don't want to put that kind of stuff out there. I wouldn't."
But Counseling and Psychological Services' door will remain open to students who do want to share common concerns and gain strategies for maintaining recovery.
"If people are interested, we'd be happy to talk to them," Broderick said.
Carly Samuelson can be reached at samu5380@stthomas.edu.