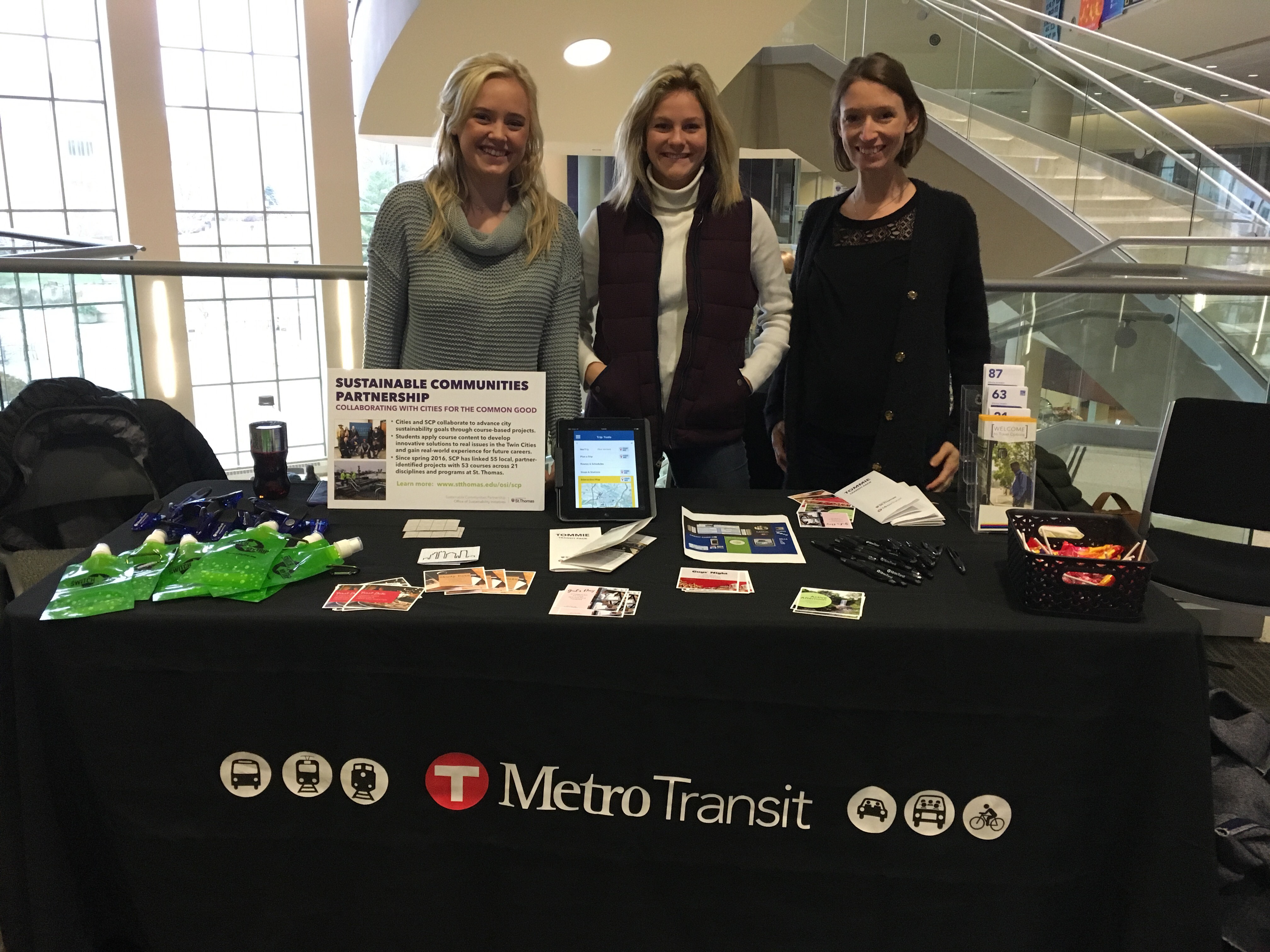 St. Thomas students created a guide for Tommies to easily use the Metro Transit system and show students the attractions available along the route.
The Tommie Transit Pack is a pamphlet of information that details how to use the Metro Transit system that goes to and from the Rosedale Center and Mall of America in the hopes of making navigation easier.
Junior Sara Huettner, international student Clara Krug-Scham, senior Carleigh Munz and junior Rhia Lapadat created the Tommie Transit Pack for their strategic communications class. The packs are given out for free with the purchase of a Metro Transit day pass or other activity tickets for events at the mall sold at Tommie Central.
"We were tasked to create a deeper relationship between Metro Transit and St. Thomas," Huettner said. "They have that with other schools, and we wanted to encourage students to use it as well."
To make the pack, the team worked with Metro Transit representative Kelly Morrell to ensure that it abides by Metro Transit branding standards. They also had to make sure that it appealed to their target audience of St. Thomas students, Huettner said. The Transit Pack was created to be as user-friendly as possible.
"The map is going to be the most functional in terms of if you were to buy a ticket or had a specific place to go," Munz said, "You would use the detailed map to get you there."
The pack includes a transit pass, map of routes, a list of vendors and movies at both the Rosedale Center and Mall of America and safety tips.
"(The safety tips are) an important piece because we got a lot of feedback saying that people were scared to use (Metro Transit)." Munz said.
The creators hope the all-inclusive guide will help students who may not be aware of how to use the public transportation system. The pack also hopes to encourage students to use public transportation instead of app-based ride-hailing services.
"We wanted to make things easy and safe," Huettner said, "And just to stress that, it is almost a better option sometimes if you are going with a larger group because Uber can get quite expensive."
The Tommie Transit Pack launched on Nov. 27 at Tommie Central. Now students will receive the Transit Pack with the purchase of corresponding discount tickets sold at Tommie Central to guide their travels on the Metro Transit system.
"I feel like a lot of people come in from rural areas and don't really know that Metro Transit exists or how to use it," Munz said. "So part of what we wanted to do was break down those barriers."
Not only does this partnership make traveling easier for students, it also allows the younger generations to become acquainted with how to use the buses early on.
"For Metro Transit, students are a key target market," Morrell said. "We know that positive exposure to transit when a person is young increases the likelihood they will continue to ride after college."
MacKenzie Bailey can be reached at bail7757@stthomas.edu.