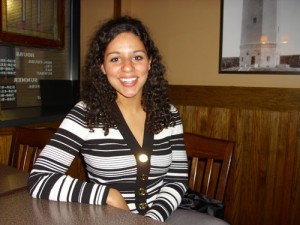 When St. Thomas sophomore Solome Tibebu created AnxietyInTeens.com in high school, she had already spent three years living with anxiety problems. Other Web sites on anxiety gave information about the condition but did not provide the community the refuge that Tibebu was seeking.
Tibebu got the idea for AnxietyInTeens.com during a summer camp before the start of 10th grade. She said she remembers thinking to herself, "God, if you get me through this, I'll make this Web site for you."
For a long time the Web site was only an idea, Tibebu said, but eventually she bought the domain name and created a simple site. The site has progressed over the years, but Tibebu said it needs financing to take it to the next step.
The Web site's tagline is, "The place for community, inspiration and information." The inspiration aspect includes poetry, quotes and self-help advice, like the article "Ha Ha Ha Your Way to Laughter Therapy." Tibebu said the site is meant to help teens right in the moment of a panic attack, which is unique to AnxietyInTeens.com.
Tibebu said she believes knowledge is power, especially in the case of adolescents with anxiety. The information section of the Web site includes content that helps teens understand what they are going through. This was important to Tibebu when she was struggling with her own anxiety.
Adjunct psychology professor Lauren Braswell said the Web site has a lot of quality information and can benefit teens dealing with anxiety.
"She does a good job balancing the tone of being empathic but also issuing the challenge that's inherent in all good anxiety treatment, which is no fear gets better with avoidance," Braswell said.
Tibebu said one of the most important features of the Web site is the community she is trying to build among young people experiencing the same problems with anxiety. There is a forum where teens can share their thoughts and experiences dealing with different aspects of anxiety. Visitors are also invited to e-mail their stories and Tibebu said she gets some emotional responses.
"It really brings me back to those days, those really difficult days, when you read those stories, and it just makes me work harder," she said.
Braswell said it's Tibebu's ability to speak out to her peers that makes the Web site so powerful.
"It gives it great credibility because we all know we're more likely to take seriously the word of somebody that we perceive as being like ourselves," Braswell said. "So, that she can put herself out there and go, 'Hey I'm one of you and this is what I want you to know,' that makes it doubly powerful, better than if it's coming from your parents or some official source."
Finding funds to keep the site going
A continuing problem that Tibebu faces is financing for the site. This semester Tibebu has six interns working with her and hopes to gain finances through fundraising.
Any money raised will go toward making the site more functional, as well as marketing the site by using promotional items such as pamphlets or stress-release balls. Through a possible high school campaign, these promotional items would end up in school counseling offices where, Tibebu said, they could make a big difference to a teen suffering from anxiety.
Tibebu said one difficulty of anxiety disorders is that young people think they are the only ones suffering and find it hard to talk about. Through the Web site and marketing of the Web site, these teens may find an outlet.
Sharing experiences outside the Web
In April, Tibebu plans to speak at the Minnesota Association for Child and Adolescent Mental Health conference in Duluth, Minn. She will be speaking to parents and hopes to help by telling them how they can relate to their teen.
"I'm the insider," Tibebu said. "I'm your teen. I'm going to tell you what is going on and how you can help your teen with anxiety."
Tibebu said her own parents have been very supportive of her while she has dealt with her own anxiety, and with enough financing, the future of AnxietyInTeens.com looks bright.
"I could have stopped," Tibebu said. "I could have said, 'Oh, forget about this site,' along the way. But I've kept with it, and I'm really looking forward to seeing where it goes."
Kelly Trussell can be reached at kmtrussell@stthomas.edu.