Even though the Anderson Athletic and Recreation Complex opened in September 2010, several St. Thomas students and faculty members have already found mice in various places within the last week.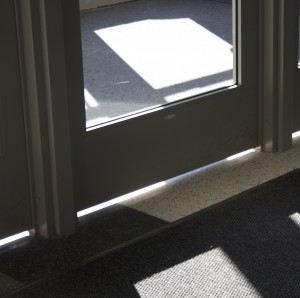 Sophomore Alex Niestrom spotted a mouse running into the building on Wednesday, Feb. 1.
"The mouse entered through the doors and ran across the hallway between the gym and the cardio room," Niestrom said. "They're definitely getting in under the doors (because) there's a crack large enough for them to get in."
Niestrom added that the mouse was only about the size of four quarters.
Junior Emily Schmitz and sophomore Bailey Otis work for the AARC event staff, and they said that they saw a mouse on Saturday, Feb. 4, while setting up for a junior varsity basketball game.
"We had set up for the game that morning and were sitting on the bleachers waiting for the game to start, and a mouse went right past us on the bleachers below us," Schmitz said.
"Another girl also saw it and tried to catch it but was unsuccessful," Otis said. "It ran back behind the bleachers."
The AARC has three main entrances that are used by students, staff and faculty throughout the day.
"People open the doors and (the mice) can get right in," Schmitz said.
AARC Facilities Manager Dave Lepp said that he first heard about the issue last fall from swim and dive coach Tom Hodgson.
"I didn't notice it as a problem until I saw one in the concession stand myself," Lepp said. "We're trying to keep everything as clean as possible."
Lepp also said that mice have been found in the restrooms and in a storage closet where they've "most likely been nesting."
"I think it's because of the cold weather," Lepp said. "We do have many traps around the AARC, and (the) Physical Plant does know about it."
Is the AARC being taken care of?
Schmitz said that she is shocked that mice have become an issue for the AARC.
"I think it's always been extremely clean, so I was really surprised to see a mouse," Schmitz said.
Niestrom said that St. Thomas should approach the situation with caution.
"I think the AARC is being taken care of properly," Niestrom said. "But I do think they should take these things into precaution because it could be a big problem if they don't. Once enough mice are in there, it's going to be a challenge to get them out."
Lepp said the problem is under control and does not see it escalating.
"It will be taken care of," Lepp said.
Otis said she hopes the issue will dissolve and that the traps will be successful.
"If I'm watching a basketball game, I'm not going to want a little mouse crawling up my leg," Otis said.
Terese Quarberg can be reached at quar3707@stthomas.edu.